By Karin Sarratt, executive vice president, OneAmerica
(Para leer en español, haga clic aquí) Translated by LUNA Language Services
Just as no individual can fully thrive in isolation, it takes all of us — businesses and non-profits working together — to strengthen our communities and make them more inclusive. As a Black woman and experienced business leader, I believe no organization can truly succeed unless it's committed to diversity, equity and inclusion.
Working in the financial services industry has taught me the importance of financial security at all stages of life, and how it can ease the stress of uncertain times. I'm fortunate to work for a company that has made expanded economic empowerment and access to affordable financial security and protection key parts of its diversity, equity and inclusion (DE&I) strategy. I'm grateful that my Central Indiana-based employer, with a heritage of more than 140 years, treasures its community connections and is committed to working with nonprofit organizations to improve lives.
2020 has shown us that when it comes to making our workplaces and communities more diverse, equitable, and inclusive, we must cooperate with others to make concrete advancements together.
Here are three key actions I believe can propel collaborations between businesses and nonprofit organizations that want to make real, lasting progress:
LISTEN: Intentionally connect for the purpose of understanding what we're all experiencing.
With all that this region, and the nation, faced in 2020, we have an extraordinary opportunity to make significant advancements in our organizations and communities.
At OneAmerica, we've been listening and participating at the local and national levels, and with our own workforce.
In the midst of the nation's renewed focus on racial injustice, the OneAmerica executive leadership team conducted small-group listening sessions to better understand the experiences of our associates. By year-end, every OneAmerica leader and associate had an opportunity to participate in one or more listening sessions.
Our CEO also spent hours, in partnership with other business and community leaders, gaining inputs from local residents and organizations who shared their thoughts and stories about racial challenges and barriers.
These many voices, and the experiences behind each voice, have helped to shape our DE&I strategy.
Our next step in listening, already underway, is conducting a comprehensive organizational assessment to understand our areas of opportunity as well as our strengths. What we learn will inform our DE&I efforts in 2021 and beyond.
Meanwhile, we continue to participate in local, regional and national efforts to maximize our impact, particularly in ways that connect with our core mission of helping people achieve financial well-being.
At your organization, you may also gain insight from being an intentional listener. Be willing to ask for input — you may be surprised by what you hear.
LEARN: See how to partner more effectively to achieve common goals.
Over the decades, our connections with community organizations have led to many mutually beneficial insights and actions. As all of us continue this important work, I'm excited about additional opportunities — whether it's sharing data, creating workforce pipelines or helping deliver financial wellness programming.
I'm especially excited about the OneAmerica Pathways programs we began in 2018 in cooperation with several local community organizations. The overall goal is to improve individual economic well-being and create career opportunities for people in our home communities. Our efforts began with our Pathways to a Sustainable Income Program, which enables all full-time OneAmerica employees to earn a sustainable income of at least $18 an hour, plus health care and retirement benefits.
In 2019, we debuted the Pathways Junior Fellows Program to build and strengthen our local workforce and improve our pipeline of diverse talent. Working with community organizations, we choose several high school students and recent high school graduates from local schools. Over the summer, they participate in an intense custom curriculum that builds career awareness and business acumen. They learn to network, to experience job shadowing and community volunteering, and to create a capstone presentation.
The program went virtual in 2020. We also added a co-op component for current college students, and we have plans to continue scaling up. We think it's a blueprint that might work for other employers, too, and we've made the curriculum and program documentation available at no cost to anyone who's interested. Visit www.oneamerica.com/pathways to access program resources.
ACT: Develop action plans focused on what we can solve together today.
After you've had the opportunity to listen and learn, use these insights to shape a response or action plan that's unique to the culture of your organization. A cookie-cutter approach won't suffice.
Our DE&I strategy is informed by collaboration with local organizations, such as United Way of Central Indiana, and the Business Equity for Indy pledge as well as key alignments nationally with the American Council of Life Insurers (ACLI) and The American College of Financial Services (TAC).
We're working with ACLI, TAC and others on an integrated industry approach to advancing financial wellness, achieving a more inclusive workplace and culture, and workforce and career development. In addition, we're working together on specific steps toward:
Expanded economic empowerment, including helping create a financial-education journey that meets underserved people where they are and inspires action, and collaborating with TAC to use its curriculum for significant community impact.
Increased access to affordable financial security and protection. We're supporting the ACLI in promoting regulatory changes that eliminate potential discrimination in the delivery of our products.
Removal of unnecessary barriers to the ability of people of color to become licensed by or employed with the insurance industry. We also support ACLI efforts to make licensing more inclusive.
It's an exciting time to advance diversity, equity and inclusion. I can't wait to see what our collaborations lead to as we move forward in 2021 together.
---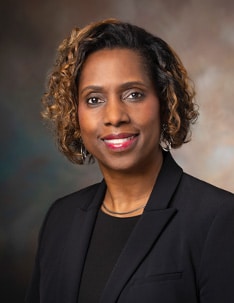 Karin Sarratt is an executive vice president with OneAmerica, an Indianapolis-based provider of retirement plan services, including for tax-exempt organizations, as well as life insurance and long-term-care products, and employee benefits. Karin leads the following OneAmerica areas: human resources, marketing and communications, community affairs, and enterprise strategy.