Horizon House offers more than a roof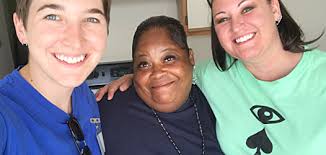 By Lynn Sygiel, editor, Charitable Advisors
{see also: City has high hopes for housing-first strategy}

When it comes to fighting homelessness in Indianapolis, there's a new mindset in town. And since early 2018, Lillian Herbers-Kelly and Horizon House have been on the front lines.
This intensive approach at Horizon House, for which there was no blueprint, involves a team assembled by Herbers-Kelly from the ground up.
"With Housing Trust Fund money, we have literally built it from scratch, which was kind of amazing to do," said Herbers-Kelly, a trained social worker.
As supervisor, she leads a team of two housing navigators and six caseworkers. Each day, she and her team support chronically homeless individuals and families as they navigate the various issues that may seem trivial to the general public, but can be potential minefields for those more used to living in shelters or on the streets. It's an example of the city's housing-first strategy, and is one of three such programs in Indianapolis designed not only to find housing for people but to ensure that they are able to keep the roof over their heads.
The approach actually begins when potential candidates for permanent housing complete a coordinated entry application. Before this coordinated system, there was a housing application, but each provider kept its own waiting list. Herbers-Kelly said it wasn't efficient or fair and certainly not effective.
Candidates are helped with their applications by one of over 100 housing navigators at multiple agencies trained by the Coalition for Homelessness Intervention & Prevention (CHIP). These navigators' work is different from those at Horizon House. Completing the application is complicated, so CHIP regularly trains and meets with these agency workers.
"If you're doing those things in a system where you're requiring a vulnerable resident to go find their own housing, fill out the application on their own and come back to you, that is not something that we can require our most vulnerable residents to do," said Indianapolis Deputy Mayor Jeff Bennett.
After someone completes the application process and is deemed eligible for a rental assistance voucher, that's when Horizon House gets involved.
Today, Horizon House works with 108 households, which include 155 people of which 20 percent are families. In the first year, the program worked with 60 people. Herbers-Kelly is proud of the fact that since the beginning, only one person has left the program.
Rodney Stockment, the city's strategy director for the homeless, said it is a phenomenal success and cites national rates at more like 80 percent. Over time, the Indiana Housing Authority (IHA) has become more and more flexible, but he said just providing Housing Choice vouchers alone wouldn't solve everything, the cultures had to mesh.
"Previously, IHA was about screening people out, and we managed to create a culture under Lillian's leadership where the two cultures are learning to work together, and that's why the vouchers have been so powerful," he said.
"It's just incredible to see that we now have a partnership with dedicated vouchers for people experiencing homelessness. It's a beast to learn, and after a year and a half, we are still learning it," said Herbers-Kelly.
The housing navigators at Horizon House, according to Bennett, help cut through the bureaucratic red tape.
Alycia Broda and Danielle Washington serve as intermediaries at Horizon House for those approved for permanent housing. With the applicant, they help gather a long list of documents and complete voucher paperwork for an interview with the IHA. They hang on to the voucher until it is needed for a landlord.
Broda is Housing Quality Standard certified (HQS) and can also conduct housing inspections as a third party for IHA, which helps because the agency is overloaded with inspections.
Together with applicants, Horizon House navigators conduct placement searches and visit potential rentals. They help sign leases and do rental checklist walk-throughs and stay in regular communication with the IHA and landlords. They also spend time educating folks about leases, so they understand their rights, what they are agreeing to and understand IHA rules. This process takes anywhere from 30 to 90 days, with the goal of 30 days or less. All data is tracked on a CHIP dashboard to have ongoing data.
Another thing that Herbers-Kelly is proud of is that housing navigators do regular landlord check-ins.
"Landlords and property managers know we're here, we're not waiting for them to reach out to us if there's a problem," she said.
Horizon House communicates routinely with potential landlords about working in tandem with Horizon House's services and benefits. In the past eight months, Horizon House has secured eight new landlords and property managers, which Herbers-Kelly said given the population's previous eviction record is good.
"We try our best to develop new relationships so that people have more of a pool of options to choose from," she said.
Over the two years, one thing that's been learned, according to Chelsea Haring-Cozzi, CHIP's executive director, is there isn't a prescriptive model. When you are focused on the most vulnerable and chronic population, there has to be flexibility.
To that end, Horizon House doesn't leave its clients. Along with permanent housing comes one of six case managers who ensure applicants are connected to service providers as needed.
It's hard work and success is incremental. Herbers-Kelly shared an example of one client, a gentleman who has struggled with addiction. He is well-known in homeless circles and has worked with five or six agencies. His Horizon House team found him housing in a 55-and-up apartment complex. Initially, they struggled a bit with his placement because it removed him from the center of the city, but agreed that eliminating his external influences was a positive. Recently, he relapsed. But his case manager who was in touch regularly got him help and worked with the landlord to keep him housed.
After treatment, he returned to his apartment. "I know some people might not see that as a positive because he relapsed, but he has struggled with alcoholism so long. The fact that he didn't lose his housing over the relapse is just a beautiful example of housing-first," said Herbers-Kelly.
Another example was a female client who struggles with mental health issues and also lives with a special needs child. The family was staying with Family Promise, but couldn't remain in the shelter because the child's behaviors would put others at risk. Family Promise worked to temporarily house the family outside of the shelter. At her previous agency, this was one of Herbers-Kelly's clients.
"It took a while to get her housed because she has several evictions, but I was in constant communication with Family Promise's executive director explaining that we were close. She got housed, she's done exceptionally well, and her child is engaged in services. We've had no complaints from the landlord."
Horizon House has had the benefit of ongoing technical assistance from Corporation for Supportive Housing (CSH), a national organization that provides housing-first training. Locally, the agency has access to an online training center, attended a summit and conference and received assistance to develop additional documents needed for the program. CSH also conducted an assessment to determine caseload maximums.
Herbers-Kelly said because of varying levels of need, intense criminal histories and landlords with strict rules, caseloads are capped at 20 in order to provide quality case management and ensure that people are kept housed.
"That's the ratio we need. I think we've shown over the year and a half that that's working, so I feel strongly to not budge on that. You have to have to have the combination of housing with supports, and I don't mean required services, I mean like someone that's going to just walk alongside you and offer support, however that looks. It really matters to have someone in your corner."