City has high hopes for housing-first strategy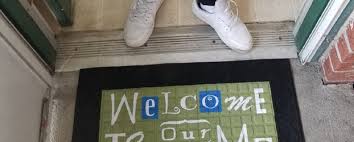 By Lynn Sygiel, editor, Charitable Advisors
{see also: Horizon House offers more than a roof}
Around the country, homelessness continues to be a chronic, complicated problem. Despite their best intentions, cities and agencies have struggled to find solutions to an issue for which there are no easy answers.
Rodney Stockment is well aware of the difficulty.
Since 1981, Stockment has immersed himself in federal housing rules and regulations. He has worked for nonprofits and government agencies at both the city and state levels. In Indiana,he's helped craft five plans to reduce homelessness, all with varying degrees of success. Nationally, he has seen the community mental health system promised by the Kennedy administration never be adequately funded. He's seen a sharp slowdown in the building of public housing.
So why now is Stockment excited?
For the past two years, he's been the senior strategy director for homelessness for the city of Indianapolis. And despite a few starts and stops, he believes Indianapolis has a five-year plan that just might work.
Indianapolis' Community Plan to End Homelessness, which was announced in 2017 and covers the period from 2018 to 2023, provides a checklist and demands action, Stockment said. If he has one frustration, it's that it is a slow-moving process.
Indianapolis' Community Plan to End Homelessness
The plan evolved as the result of a local funding crisis in 2016 that served as a wakeup call.
Since 1995, communities seeking homeless assistance grants from the U.S. Department of Housing and Urban Development (HUD) do so through a single application. In Indianapolis, the application is submitted by Continuum of Care (CoC), a regional or local planning body that coordinates housing and services funding for homeless families and individuals.
It was CoC's 2015 submission that caused Indianapolis problems. In recent years, HUD has altered its priorities and requirements for how its grant money should be used. HUD's priorities and requirements have evolved, but Indianapolis' had not. As a result, the city's homeless funding was cut by approximately 15 percent.
"It seems like that was probably due to the application just not measuring up to standards that the federal government had set. So the federal government (HUD) had been evolving in its funding priorities for years, and it seems like maybe our community was not responding to that evolution fast enough," said Indianapolis Deputy Mayor Jeff Bennett.
Job number one that year was to work to get that funding back, said Bennett. First tasks were to dig into the application, the scoring criteria and the metrics that HUD uses. Then with support and funds from the Coalition of Homelessness Intervention and Prevention (CHIP), the city hired a grant writer with federal expertise who understood HUD's requirements.
"We just tried to put all the right people around the table over a period of months to turn in the best application we possibly could in that funding cycle. And that succeeded. We got a little bump, and the money back that we lost. And funding has increased steadily in each round since. It's up 27 percent now over the last three years," said Bennett, the deputy mayor of community development under Mayor Joe Hogsett. It also helped the CoC realize it had to diversify funding.
Chelsea Haring-Cozzi, who was named CHIP's executive director last November, agreed.
"I think the reduction of funds did a lot of things, but one of the things is it helped us realize we cannot put all of our eggs in one basket. We cannot look to the federal government and HUD to be our sole funding source. We really have to build on our own local capacity and start to leverage local funding. I think that has helped kind of push collaboration and partnerships in new directions," said Haring-Cozzi.
The bottom line, said Haring-Cozzi, is not just increasing the funding, but decreasing homelessness. One of HUD's measurements is whether you are serving and housing more people.
Strategic shift
Armed with a restoration of funding, the city has also made a strategic shift, said Bennett. By shifting to a housing-first strategy, and introducing technology to support data-informed decision-making and establishing a coordinated entry system, pieces are falling in place to get as many people housed permanently as quickly as possible. The goal is to get people off the streets and out of shelters. Housing-first is a coordinated-care approach that works to address the root causes of homelessness.
"We have never fully embraced housing-first as a community. But if you think about homelessness as a housing issue, then you can solve it with three pieces – housing, rental assistance and supportive services," Bennett said.
Early in 2017, the mayor challenged the city to locate 400 additional housing units. Stockment, who was hired in June of that year, was assigned to help identify them.
What this did was to create a housing pipeline, and now the city requires developers who want the city's support on applications for housing tax credits from the state or to use vouchers in affordable-housing developments to have a permanent supportive component.
"Not 100 percent of the units, but if you're developing 100 units, can we get 10, 15, 20 of the 100? When we do that we can fulfill the pipeline and the commitments that we need for the five-year community plan. It's roughly 200 units a year that we need to either continue to identify or to develop through new construction," said Bennett.
In addition, there was a need to identify sources of long-term sustainable sources of rental assistance. In 2017, Alan Witchey, CHIP's then executive director, worked with the Indianapolis Housing Agency (IHA) to identify ways to provide rental assistance not from HUD's CoC grants, but mainly through housing vouchers that IHA oversees and deploys, Bennett said.
That led to the third part of the housing-first equation – with added housing, there was a significant lack of service-provider capacity. It was imperative to provide services for the hundreds more residents who had acute needs in order to stay housed.
Earlier this year, the Central Indiana Community Foundation (CICF) announced that it would raise funds to provide supportive services for former homeless residents. Called the Housing to Recovery Fund, local service providers will receive funds in 2020 for outreach, housing navigation, help in getting benefits, negotiating with landlords and learning daily living skills.
"It's $5.5 million over four years, and that's going to enable us to create a flexible pool of service money where we're doing a pay for success model where you don't grant for activities, you pay for outcomes. And I think this money is going to allow service providers to have flexible money to do whatever it takes to keep people housed. It's the most exciting thing that has happened to me in my career," said Stockment. "We've got the bricks and sticks, the operating money from IHA for the first time in history, and now we're getting the services lined up."
Stockment said an RFP was issued for this pool in mid-July, with service provider responses due by the end of July. Right now these responses are being reviewed, and then service providers will be brought together to create a network.
"We will ask them, 'Are you OK with us funding this network as opposed to you as individual agency?' We will have this network of service providers that we can invest in. I'm really excited about this, it's going to radically change the way we do work here. It's going to really mix it up," said Stockment.
"We've gotten largely out of the mindset of 'This is my space, you cannot come into my space because this is what I do,'" said Bennett. "I think we have service providers who are now thinking differently about how they might partner with the housing provider or how the housing provider might now be willing to accept vouchers because there is a service provider attached to that residents. We were not as a community, forcing those connections," said Bennett.
In February, the Anthem Blue Cross and Blue Shield Foundation announced a $74,900 grant to CHIP to fund the Street Reach Indy program. The grant will help nearly 150 people overcome the financial and health care barriers that often prevent them from finding permanent housing and provide financial assistance for security deposits, mental health or substance abuse treatment and other costs that are barriers that prevent individuals from obtaining permanent housing.
The Indianapolis Metropolitan Police Department has also played a role with its homeless unit, sometimes called FLEX. Four officers are based out of the downtown district.
"They've been huge in particularly in terms of street outreach. They meet people where they are and really try to understand the complexities of the issues people are dealing with and work in true partnership with our homeless service provider community," said Haring-Cozzi. When there have been problems with panhandling or increased homelessness downtown, they've been a pretty great resource."
Embracing housing-first also meant that in 2017, the city launched a coordinated entry system with the goal to quickly move people from emergency shelters and match them with permanent housing. Two years in, CHIP is working to evaluate and then refine the process to shorten the time from when people first come into the system to get them connected with appropriate housing interventions.
In the last two years, there has been a reduction in the Point in Time (PIT) count number, which Haring-Cozzi said is the first barometer of success. Before the last count in January, based on what other cities were reporting, the city fully expected an increase. It's actually has reached a five-year low, dipping below 1,600 with a 7 percent decrease from the previous year.
"It was really eye-opening for us to see that what we're doing is working. It's been really encouraging because we can point to some real systemic changes in the last 18 months that we can attribute this to," she said.
Bennett said the city is at a unique moment. The conversation has moved beyond scarcity of resources, and he believes it's building trust with its follow-through and willingness to pivot when something hasn't worked as planned.
"We have resources now. Now, it's a challenge to deploy resources in as fast a time as we can. Let's use everything that we've put on the menu over the last 30 years, and get more people housed permanently, as quickly as possible with high-quality services attached. Let's just get better at the stuff that we've worked on in earnest over the last two to three years," he said.