By Lynn Sygiel, editor, Charitable Advisors
Robert Walls is a problem solver. If you tell him you have tried everything and nothing seems to work, Walls sees it as a challenge to find something that will.
In 2006, Walls was asked to judge the national "We the People" competition in Washington, D.C. What surprised this Indianapolis resident and retired public school administrator was that among the 1,500 teens participating in the event, less than a half dozen were African-American.
Convinced that he could add diversity to the competition, his first step was to speak with Robert Leming, the director of the national Center for Civic Education, the organization that runs the competition.
During their conversation, Leming told Walls that the center had tried every idea it could think of to get urban school systems to adopt the Constitution-focused curriculum, and he was frustrated, too. But he welcomed new ideas and invited Walls to attend the group's national state coordinators' meeting.
Walls found the meeting disheartening, and that might have been discouraging for most people, but not in his case. While he learned that students couldn't take part in the national event unless their school district had adopted the curriculum and a district teacher taught the course work, he thought that wasn't an insurmountable hurdle.
[content_box box_type="normal"]Since 1987, the national finals for the Center for Civic Education's program have involved over 31,000 students. Each spring, upper elementary and secondary students participate in simulated congressional hearings with students testifying as the constitutional experts before panels of judges.[/content_box]
"In my opinion, the national competition was where the meat of the program really was. You got a chance to hear a whole lot of different opinions from all of the other states, and you got a chance to exchange ideas with teachers and administrators. I was frustrated that (urban kids) quite frankly had not been involved. There were some schools that adopted the program, but very few were teaching it to the point where they could get involved in the competition," he said, citing the cost and the focus in urban schools on simply teaching the basics.
Undeterred, he forged ahead, and with the Center for Civic Education's blessing, crafted a plan.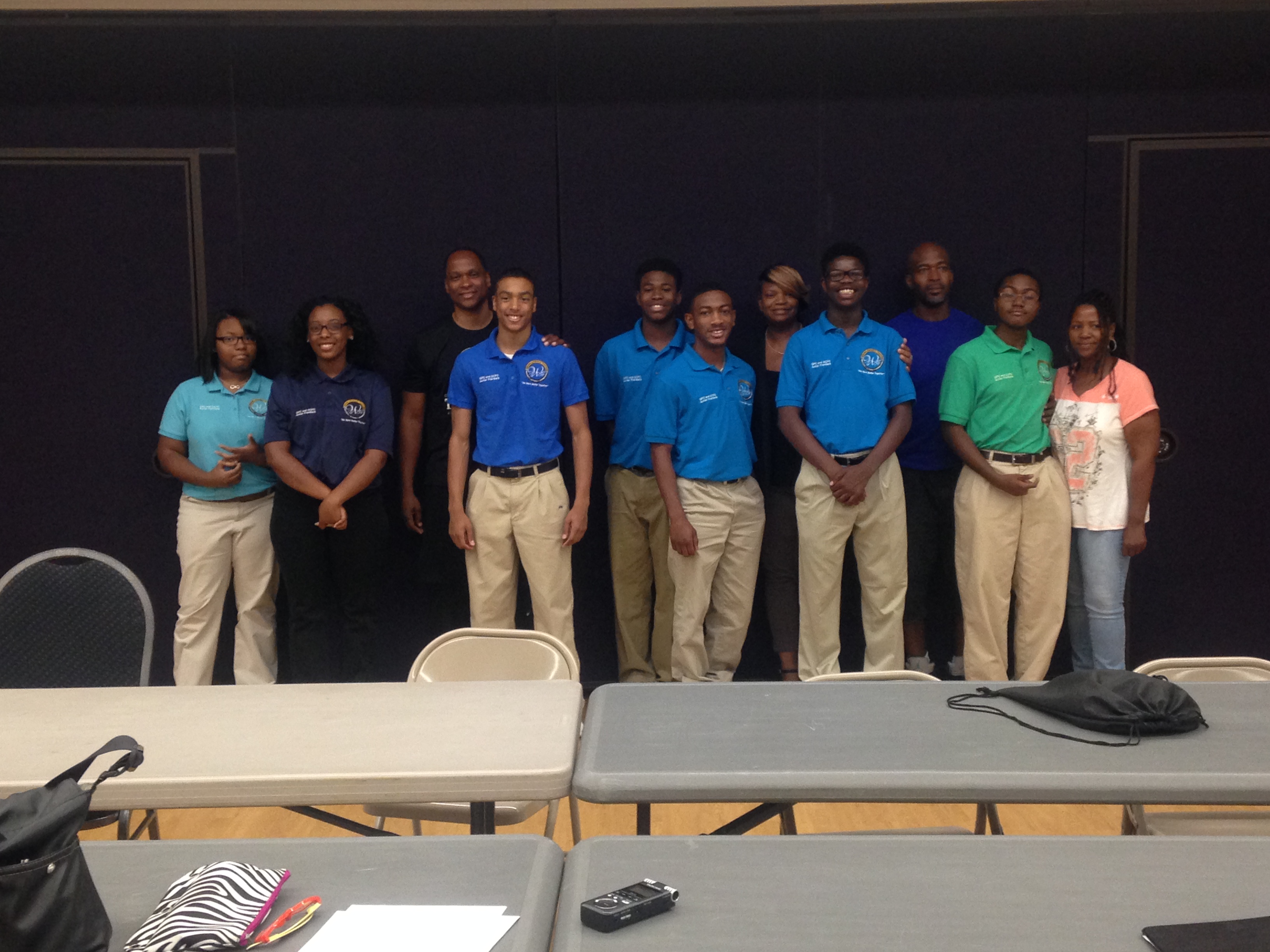 Walls began with his connection to Frontiers International, an African-American service organization founded in Columbus, Ohio, in 1936. His goal was to recruit schools to adopt the program, but he knew what could work immediately was to teach the program after school.
"But I said to the state coordinators, 'If nothing else works, let us have our own competition,'" Walls said.
If you cannot join them, adapt.
At Walls' recommendation, Frontiers International, which spreads its clubs into nine regions around the country, sponsored the first training. The Center for Civic Education agreed to the plan and pulled together a group of scholars to be trainers. In 2010, with 37 teachers from around Walls' primarily Midwest region, the effort was begun. Educators spent five days at IUPUI, and upon completion, received a set of 30 books and teachers' curriculum.
After that training, teachers could recruit from any school in their areas and teach the program after school. Later in 2010, the effort culminated with invitations to five (of 26) states — the top 110 students from around the country –to compete in the first Frontiers national competition in Birmingham, Ala, with the Center for Civic Education's encouragement.
"Part of the reason we went to Birmingham is because it was recommended by Robert Leming, Wall said. "We could combine the study of the Constitution with the cultural experience of Birmingham. That's our theme now. We try to combine the Constitution history and cultural history and see how they connect."
In 2013, seeing the local potential, Darrin Orr, an Indianapolis businessman, helped Walls co-found a nonprofit organization, Winning Experiences. Orr is also the United Northeast Community Development Corporation president, which serves the Meadows area on the east side of Indianapolis.
One part of what launched locally is now the Northeast Corridor (NEC) We the People after-school team. As a nonprofit, it has expanded its offerings beyond the youth program to adults and has offered a Constitution 101 course in the Northeast Corridor and Fishers. It also has an ongoing book discussion group, an online civics program and offers kids scholarship accounts, service projects and advice on financial literacy.
Tinley Accelerated School freshman Desmond Mathews, 15, signed up in seventh grade for the We the People team and has stayed with the program for three years.
He would encourage others to join to learn things that the average person doesn't know.
"Something I learned through this program is that there are laws that are unconstitutional. I used to think that every law was constitutional," he said.
Nylicia King, 16, a sophomore at Broad Ripple High School, Mekiyah Boyd, 14, a freshman at Providence Cristo Rey, and Tinley Accelerated students Haylee Smith, 15, Dajour Finley, 15, Jamari Pollard, 15, and Bryce Orr, 16, joined Mathews on a Saturday at the Avondale Meadows YMCA to talk about what they've gained from the project.
"I'm just more informed about what's happening because if I didn't know about any of this, I would just be making assumptions on what's happening, throwing guesses out to the wind and hoping that's actually what the situation is. Now that I actually know what it is, I can gather my thoughts, and I'm able to back it up," said Jamari, who also serves as the national Junior Frontiers representative. Before Jamari joined, he knew the Constitution was a thing, but he didn't know anything about it.
"One thing that I found surprising is that when you get stopped by a policeman, you have the right to say, 'Am I being detained or am I free to go?' I didn't know you could do that," said Haylee.
Each of them talked with ease about the Constitution's role in today's headlines. Most high schools don't offer a government course until junior year, but these kids have a head start.
"Before I started the group, I really didn't too much care about politics and what was going on. But now, I'm more aware of what's going on," said DaJour.
And while studies have shown that programs focused on the Constitution improve students' grades, Nylicia has seen it first hand.
"When I started, my grades weren't bad, but they were like kind of slipping. I got my first D ever. And that was in social studies, and I didn't ever imagine that I get a D in social studies because I love social studies. But since I've been in the program, it's boosted me," said the Broad Ripple High School sophomore.
For these students, it's not just learning about the Constitution, but during their time in the program they are encouraged to graduate and consider post-secondary school.
Tasha Phelps, a Winning Experiences board member and marketing coordinator, frames it this way.
"Perhaps another way to think about our goal is the program that we have is civic education, but the return on student investment of time is college prep," Phelps said.
In February, the team traveled to Virginia to a Historically Black Colleges and Universities (HBCU) festival.
It opened Haylee's eyes to the possibilities.
"This program has provided me with a lot of college opportunities that I never would have had before. Like in February we went to a college fair in Virginia, there were 70 colleges there. They were giving out scholarships and accepting scholars on the spot. So when I become a senior, that could possibly be me getting accepted to a college," he said.
It changed DaJour's outlook.
"The program changed my perspective on college. I thought it was just another type of place to go, just to go to school, but it's changed my perspective, and I can see that it's way more than that. I didn't know what an HBCU was, and now I know what that is," he said.
In March, the team visited five HBCU schools: in the Midwest including Fisk, Meharry Medical College and Tennessee State in Tennessee, Central State in Ohio and Kentucky State.
Nylicia wants to be the first person in her family to graduate from college, and she knows she will need help along the way.
"The last college tour was Kentucky State, and they said if you wanted a better way to get college tuition paid for, there's a representative from your state, and they can help you get that scholarship. I didn't know, I thought you just went, I thought it was like a college scout that just came, I didn't know there was a representative," she said.
Right now the group is preparing for its competition in Philadelphia. Along with that experience in July, the students will stop in Washington to see the Smithsonian's African American Museum, and after Philadelphia, travel to see the Statue of Liberty in New York.
Desmond, who is also a Winning Experiences youth board member, thinks more urban students should know about the opportunities.
"Something I want other people to know, I think this program should be way bigger than what it is now. It's a great program that offers great opportunities that all teenagers, really anybody, should be exposed to.
"It's not all work. People like my friends, I tell them about this program, they think, it's all work, like we're always studying the Constitution and we got to memorize the whole thing. We're doing work, but it's balanced," he said.
Winning Experiences has a working board and volunteers who run the programs.
As a board member who enrolled in the adult program, Phelps realizes that the group is only a few years old, and its work is not typical, but she is buoyed by its power.
Phelps believes in this organization that began as an adaptation of an existing model and shows the power of teaching urban students and adults about the Constitution. And with a strong board now in place, she believes, like Desmond, that the organization will only gain momentum and increase its visibility around the country.