By Lynn Sygiel, editor, Charitable Advisors
Britany Cooper dropped out of school at 18, and learned about YouthBuild from her cousin. He heard about the program to finish high school from his mom who picked up a flier. Inspired, Cooper called the same day to get into the program.
While the majority of students in this program are definitely male, this mom with a 7-year-old has about a month before she reaches her goal to be a carpenter and make a better life for herself and her daughter.
I went to Broad Ripple, and then I dropped out 'cause I had a kid. I was 18 when I had my child.
Since then I've been working off and on. I wasn't doing nothing, and I was like, 'I got to do something 'cause my child cannot see me doing nothing.'
And so I was like, 'This is an opportunity for me to change my life,' so I took that step. Thank God that I'm here and I'm just trying to do something that I've been wanting for all my life. I'm changing my life around. I teach my daughter the way to success is to take the opportunity.
I changed when I came here: I was shy, I never talked. It's hard, but it's a process that you got to go through just to get something.
I've been here four months, and I'm reaching my goals. Math is my skill. I love math.
I have a friend. He wants to get his GED. I say, 'It's the best place to go.' We talk about it and I say, 'Are you sure you want to do this? It's a process, but it's worth everything that you would be working for toward your goals.'
At YouthBuild, the staff is good people. They never let you down for nothing. They continue to help you get your goals, sit with you and let you be. And if you want to go to college, they'll help you do that, too. It's a lot of things they can help you with. Anything that you want to do, they'll help you find it.
It's a good program that people don't even know about. These are opportunities, but it's just an opportunity, if you want to do it. It's awesome.
---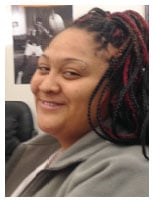 Originally from Chicago, Chantell Ledezma, 22, spent most of her early life in Milwaukee. But after she was expelled while also being pregnant, she didn't go back and finish high school.
Now with a 4-year-old daughter and back in school, she wants to be a surgical assistant. Ledezma has been at YouthBuild Indy for three months.
"I was a good girl. I don't know if I was mad inside or if I was mad at the world. Teachers told me if I keep on getting suspended, I would be expelled. I was like, 'Mommy will kill me.'
Then one day a girl was trying to fight me outside the school. I was like six months pregnant, and I was trying to ignore her. I was trying so hard to ignore her. But she said something, and I put my book down and just charged at her. I was on suspension for a couple of days, and then the principal was like, 'We're going to expel you.' I just had one more year left and I dropped out.
I was 17 when I had my baby. I wasn't interested in going back, and then I moved here, and I didn't know nobody.
My sister was telling me about this program. I went to talk to the lady and had to make a decision between two programs. Something about the YouthBuild flier popped out at me. I called them and made an appointment. Me and my sister came in, and I got accepted, and I've just been here ever since.
At YouthBuild, they care about you and really help with all your problems. Feeling, talking, anyway they can help. On top of everything I've been through, I can always talk to one of the teachers. They'll listen to you, and they'll help you. If you don't have something, like I didn't have white shirts when I first came here, they helped me get the white shirts.
I've got three tests left. They try to make it interesting. The science class, I'm like, 'OK, now I understand it. How it's supposed to be done now.' At first I didn't know anything about science, and all that, so now I'm getting the hang of learning it, and how to remember it.
---
Tyler Keno, 22, wants to be a role model for his two daughters, ages 4 and 2.
After life on the streets and trouble with the law, Keno spent time in Terre Haute and then left the state for Georgia.
Back in Indiana now and on house arrest, he is working to get his education. He's been at YouthBuild for three months.
With another child on the way, his plan is to pass his tests, and then get certified to be a welder.
I was this young, hot-headed kid. I started skipping at eighth grade and had caught me a case when I was 14, a juvenile and still going to Harshman Middle School.
I dropped out and then spent time at Gibault in Terre Haute. When I got out of there, I went to Georgia and went to day school down there. That's where my whole life changed and I had dreams and everything. I met the rapper Gucci Mane. I met Rick Ross, all of them. They were really going to work in my favor when I got off of probation down in Georgia.
I was in Georgia for eight months and finished my eighth grade year. I was about to go to high school, and I ended up coming back here.
Before I came to YouthBuild to be honest with you, I was on the streets doing what I do. As soon as I came here, it made me do a 360. When I got locked up, got caught with that $15,000 and all that dope, and I was sitting there for the two months till I got bonded out, sitting there like, 'Man, I could do better.' I had my third child on the way. I could be better than this, man. I'm not this type of cat. I don't want my girls dating anyone like me. I don't want that for my children. I know I'm trying to do the right thing, change my life, better myself for my children.
I'm currently on house arrest and found out about YouthBuild through this other resource, PACE. My counselor told me about it.
I didn't take the tests yet. I feel like I need to get more learning and skills before I take the test. I've been here three months, it's probably going to take me like five or six months to finish the program.
If you want change, start with yourself. That's how I look at it, man.
---
Armani Edmond, 19, grew up in Indianapolis on the city's Eastside. He has two siblings — one older, one younger – and a supportive mom.
Edmond was on the path to graduate from high school until math got in his way. He says it was the best thing that happened to him.
Now, a YouthBuild Indy employee, he had two job offers when he finished his education earlier this year.
I actually came from Arlington High School. I was there for about five years, when it was a middle school and high school. I made it up until I didn't pass my End of Course Assessment (ECA) math exam. Math was always my worst subject. Never was good at it.
I found out on Friday before graduation that I wasn't going to receive a waiver for that portion of the ECA, so didn't really know what to do. I already ordered my cap and gown. I was really upset for a while, kind of laid around for a little bit, didn't want to talk to anybody, was angry, mad at the world.
A flier had got passed down for YouthBuild. I didn't want to hear it at first, but my mother encouraged me to try it. So, she said, 'Let's call.' I scheduled a time to meet. My mom was really supportive.
I set up an interview and went through the interview process. I was invited to Mental Toughness, and I pretty much tackled it.
At the time, it was right down the street. It was walking distance, and I used to walk here every day.
I don't come from much. A lot of people who come here, they don't have much growing up. We bonded as a family, especially our group 'cause we were a smaller group. We really took it seriously. It was unique for us, and it made us learn a lot about each other and our roles.
Not graduating from high school was probably the best thing that happened to me. When people hear that, they don't really believe it. But that is the best thing that ever happened to me. Honestly, if I had graduated, I wouldn't have known what to do. I came here and I went up four grade levels of math in a short time, math was actually my second highest GED test score. Math is my favorite subject now.
Here we talk about deeper things than just academics. You know academics are the most important thing, but we like to get to the root of certain issues with different people, so we can approach class differently. In high school, that's not really done too much. You know you're given the book work, but if you don't want to be there, you're not going to learn.