By Lynn Sygiel, editor, Charitable Advisors
Except for a few Revolutionary War buffs, few people have likely heard of French nobleman Comte de Rochambeau. Rochambeau fought with the colonists against the British, and there's an old tale that he and George Washington played rock, paper, scissors in a tent shortly after the British surrendered at Yorktown.
In some circles around the country, including Indianapolis, the popular playground game is called "roshambo." A reference traced all the way back to the venerable French count? Probably not, although the Revolutionary War would have been a lot less bloody if it were contested by roshambo instead of cannons and muskets.
Indianapolis-area kids are setting a good example when it comes to settling conflicts on the playground, said Christine McConnell, the development manager for Playworks, an international program focused on helping kids play together in a safe and harmonious manner.
"We have seen the statistics bare out that the arguments that happen at recess carry over to buses, carry over to the walk home, carry over, carry over, carry over. And when you diminish one, and you alter that path, then you see a dramatic reduction in all of that," said McConnell.
Relatively new to Indiana, Playworks Indy opened its office four years ago. Indiana University Health provided the funds to make the program available in the state.
According to Joyce Hertko, director of community outreach and engagement at IU Health, the company learned about the nonprofit and believed it was a strong and worthy organization that could make a difference in area schools. For a group focused on health, she said, it made sense.
"We talked about the research that's been done to show that when kids are active, and they have time out from school, they actually can be more productive in school," said Hertko.
But it's more than just playing.
"I think also on the playground, students learn how to work with their peers, and they learn how to work out a problem. It's a great time to test their leadership skills," said Hertko.
Playworks started in Northern California 20 years ago after a principal complained about escalating schoolyard conflicts and their negative effects on the school's culture. Jill Vialet, a school volunteer, was moved to action and started Sports4Kids in two Berkeley, Calif., schools. That was in 1996, and in 2004, she was named an Ashoka fellow, a prestigious award that carried with it financial support for her to expand the program. Her goal is to "provide healthy, inclusive recess and play to low-income schools."
In 2009, the organization was renamed Playworks, and according to McConnell, a region and school has to be all in to make the program succeed.
"The school has to be interested in having the transformation process occur, and they have to have an environment that's conducive to it. It cannot just be another program that is put upon a school," she said.
This school year, according to Audrey Hall, local Playworks program director, there are 5,300 students receiving direct service through its Coach and TeamUp programs.
Four IPS schools, School #61, Clarence Farrington Elementary; School #107, Lew Wallace; School #44, Global Prep Academy; and School #69, Kindezi Academy and one charter school, Irvington Community Elementary, have fulltime recess coaches.
In addition, four Washington Township schools are involved in the nonprofit's TeamUp program, which works with an on-site coordinator to teach, model and empower a sustainable recess program.
"The Coach program is really an intensive in-school program. Our coach lives in the school. For our schools in this area, they're literally getting a staff person. The kids know and respect and love this person. Coaches also go in and do class game time, so they're in the classrooms, too. It's really woven into the fabric of the actual school day," said McConnell.
In addition, teachers can schedule class game time to help develop skills and interpersonal relationships. These can be anything from help with kindergartners struggling with colors or the alphabet to third-graders not getting along in the classroom. In Indiana, coaches have pioneered a break in the middle of ISTEP testing.
"The goal is that it's not something extra for the teacher to do, but something they look forward to," said Hall.

Right now, all area coaches are AmeriCorps volunteers and trained by the nonprofit. Every Friday, the six have a 90-minute session, where together they continue professional development, learn new games and talk through challenges. Who makes a good coach? Hall said she wants coaches who can relate to staff, have youth-work experience, a positive personality and for whom the fun factor is high.
Because AmeriCorps is built on service, these coaches also plan community events. Last year at School 61, the coach did a community event and Playworks provided the refreshments. Over 250 families came.
"So the school looks at us as a convener, and we're a natural vehicle for that, we can be a good partner in helping them to reach and engage their parent population. It's a positive force in that way," said McConnell.
Just how important is recess? Three years ago, The American Academy of Pediatrics issued a policy statement about "The Crucial Role of Recess in School," including identifying the benefits — cognitive, social, emotional and physical — of a safe and well-supervised recess. This year Rhode Island made mandatory a 20-minute recess for elementary students, including sixth-graders.
At a Playworks' school, students are invited to the playground, which is mapped with designated areas for games. Boundaries are visible and are made with cones, chalk or painted lines. Activities vary by age group, and students can select from a variety of games – 4-square switch, sharks and minnows and alligator swamp. Many are games that have been around, but with new names.
There is enough equipment on the playground to provide active play. Hall said the coach's goal is to create an environment where kids want to get out and play. Every school is a little bit different, but the goal is to keep it fresh.
Playworks activities are designed to engage students in physical activity, foster social skills related to cooperation and conflict resolution, improve students' ability to focus on classwork, decrease behavioral problems and improve school climate.
Every recess ends with an organized closing.
"The kids get back in line, they let all the steam out, and they walk back into the classroom in an orderly fashion. So the teachers earn back a time with tushes in the seats. The teacher is not solving bullying issues, so they're getting increased learning opportunities, and the teachers are getting to teach more," said McConnell. Over the course of the school year, according to Playworks' data, the teacher gains 18 hours in instructional time.
[content_box box_type="normal"]
Playworks services
Compiled by Lynn Sygiel, editor, Charitable Advisors
Playworks is changing school culture with safe, fun, and healthy play at school every day. Only elementary schools and its staffs are eligible for Playworks.
In the Indianapolis-area this school year, 5,300 students are receiving direct service through the Coach and TeamUp program.
Here's an overview of Playworks programs:
Playworks Coach: fulltime recess and in-classroom game coach, based at the school.
Indianapolis area schools
School 44, Global Prep Academy
School 61, Clarence Farrington Elementary School
School 69, Kindezi Academy
School 107, Lew Wallace Elementary School
Irvington Community Elementary, charter school
Playworks TeamUp: partners with a group of elementary schools and provides an on-site coordinator to teach, model and empower a sustainable recess program.
Washington Township: Greenbriar, Fox Hill, Nora and Crooked Creek elementary schools.
Junior Coaches: A leadership program for fourth- or fifth-grades at Coach schools. After teachers and administrators identify potential candidates, these elementary students develop skills to take on added responsibility for leading recess. To set them a part on the playground, they wear purple shirts.
Playworks Pro: provides professional training and ongoing development to school staff, paraprofessionals and after-school care providers to create and maintain a great recess and play environment throughout the school year. Indianapolis worked with the Indiana State Department of Health to identify regions needing pro-training in schools, districts or youth-serving organizations. In the Warsaw area, multiple elementary schools from several districts came together for pro-training.
Training: provides specific training for youth-serving organizations' staffs. Last year, Playworks trained the summer program staff for Nicholas Park, and Big Car's staff were trained to understand crowd management and attention getters.
A 348-page game guide is available for schools, youth groups and church youth groups.
Corporate Playworks: Play Days is a fun and active team-building, volunteer and community engagement experience to get employees out of the office and onto the playground, serving kids and schools.
2016 survey results
In Indianapolis administrators, teachers and school support staff completed surveys. Of the 84 Indianapolis-area respondents, 88 percent wanted Playworks to return next school year.
Here is the compilation: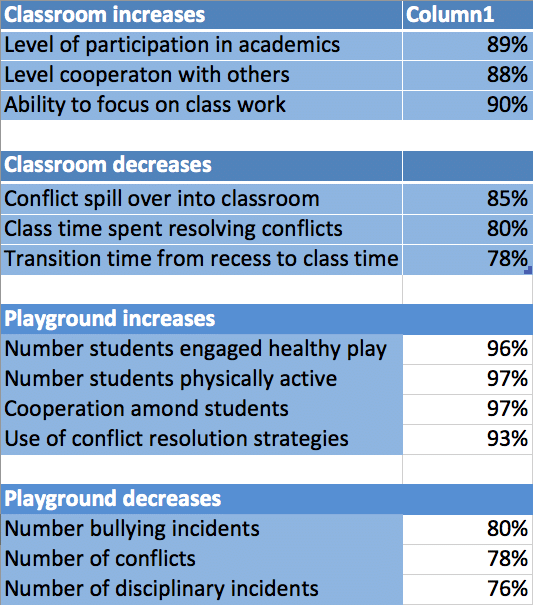 [/content_box]
According to Hertko, last year IU Health offered Playworks as one of its options for five IPS schools and three parks. School 69 opted to have Playworks and positive messaging painted on the school's wall. That day, the principal reported there were no discipline problems, not even little things.
The program has real, measurable data to prove its effect. Mathematica Policy Research and Stanford University found that a Playworks recess can transform school climate, paving the way for less bullying and more focus on learning.
"You can go to a number of nonprofits here in Indianapolis that are doing good work, and you can hear a story of transformation, and it is just as touching and just as important," said Hertko.
"I think what is different about Playworks is they have metrics in place that also measure that. There are students who are stepping up to be leaders who weren't, and when the program is measured among teachers and administrators and students, they're actually moving the dial on these issues. And that, I think, is really important," said Hertko.
Junior coaches add a unique dimension to the program. These are fourth- or fifth-graders who are identified by teachers and administrators as potential playground leaders. On the playground, they are the ones in the purple shirts. Their end goal: to lead recess.
"It's our leadership program and a core component. We take fourth- and fifth-graders who are leaders in their schools, but they're not necessarily your student council presidents. They have reputations, and they need additional assistance. The role is an added responsibility and requires trust. So it's a big deal and a paradigm shifter for a lot of kids," said McConnell.
McConnell has a desire to measure what happens to junior coaches when they leave elementary school where they stand out.
"They're at an interesting phase, they could go either way academically, either way socially. What happens when they go to seventh and eighth grade? What does that look like? We have anecdotal information that they stay the track because they've had the experience, but we don't know enough to definitely say. That's an area to explore," she said.
McConnell said the key skills that kids develop are empathy and inclusion.
"I think they learn to relate to each other and because of the variety of activities it allows kids to interact with each other without barriers, without boundaries. They have more empathy for each other when they go back into the classroom," said McConnell. "The inclusion part is you're more likely to play with people you don't know or people you don't like, if you all want to play kickball.
"It softens the hard edge that comes with variations in language, academic abilities and athletic abilities. They learn to work together and play together, which is a natural expression of empathy, right?" McConnell continued. "They relate to each other differently, and so that transfers over to the educational environment, the actual academic environment."
For parents, it's about safe play. McConnell and Hall know the challenges for Playworks students – the majority receive free- and-reduced lunch and live in high-crime neighborhoods. Walking to the neighborhood park may not be an option.
"What we recognize is that there are amazing parks in this community, but the walk to the park from a kid's house may not be safe. Recess is, in fact, where kids tend to play and be safe. And that safe factor translates into the home. So that's a benefit to the family. Kids want to go to school, and they're safe. So that's a pretty important platform," McConnell said.
They have learned from parents and the general community that safe play slowly radiates.
McConnell said there are junior coaches who actually teach roshambo to their neighbors as a way of resolving conflict. "They might say, 'We're going to play tag and then we're going to solve it this way.'"
Nationally Playworks announced its intention to dramatically expand both the current number of students enrolled in programs, as well as reach hundreds of thousands of children through free resources and training for schools. Over the next four years, the AIM program, backed by $26 million in new funding, will reach 3.5 million kids in 7,000 elementary schools.
Locally, the Indianapolis staff wants to grow direct service, but also have more opportunities to reach pockets of vulnerable children in rural and urban areas like Muncie, Anderson and Terre Haute.
One model is to work with school districts and offering a combination of training and online resources. While they cannot direct serve every region of the state, they can positively impact school districts by reaching adults.
The good news is that all of this is in the final vetting stages. This is a way to reach a critical mass at the grassroots level, and then, according to McConnell, the organization can launch a policy discussion.
"It's what informed Rhode Island's decision, and that's what changes the landscape. So we recognize that offering the program to anyone who really and truly is interested and supporting him or her through the process, changes the discussion. What does it really mean to educate a child? What does it really mean to fight obesity? Let's look at it through what builds a healthier community and what builds a healthy child," she said.
Hertko offers everyone an invitation: Come to a school that has Playworks and observe the playground and the classroom.
"I think that Playworks teaches how to get students' attention, how to get them focused and also teaches students to do it themselves. It's helping the kids, it's helping the teachers, administration to make those schools healthier environments for students to learn and grow."