By Lynn Sygiel, editor, Charitable Advisors |

In May, we asked readers for perfect tech or software solutions that have reduced costs or saved time. Here are two peer recommendations.
#1: KEEP INDIANAPOLIS BEAUTIFUL
CHALLENGE
Abby Dennis is the volunteer coordinator for Keep Indianapolis Beautiful and needs to collect data – lots of it. She knew she wanted to streamline data collection and remove those thousands of sign-in sheets and waiver forms from her desk after a volunteer project in the field. Dennis spent approximately 10 hours researching alternatives, talking with others in the field and reviewing products and apps.
SOLUTION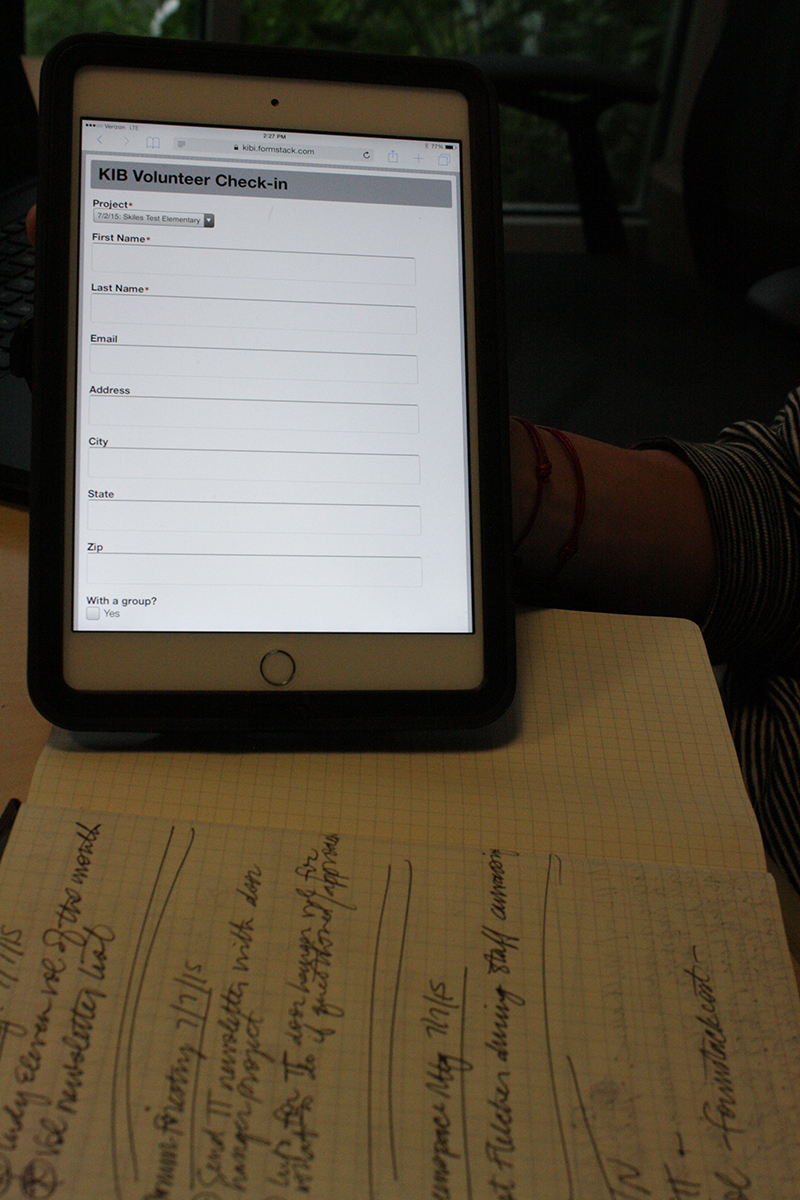 Purchase five iPads to use in the "field" with a cloud-based collection system
This March, Dennis was able to implement a new data-collecting system. Volunteers sign in on a tablet that has been pre-loaded with a customized Formstacks online form. Formstack stores the data, so that back at the office, Dennis can export it to cloud-based Cervis. This allows her to easily capture a volunteer's work history, contact information and needed data for reports, all minus the paper. Liability waivers are saved, so a volunteer doesn't have to complete one every time.
But use of the tablet didn't stop there for Dennis.
This summer, the Youth Tree Team has found several uses for the tablets. KIB daily has 80 youth in the field planting and watering trees. Before heading out, each team plots its work route using Google Maps. With teams working at multiple sites, in past years there might have been 60 pages of printed material to map the day's travels. Now, it's on the tablet for easy reference.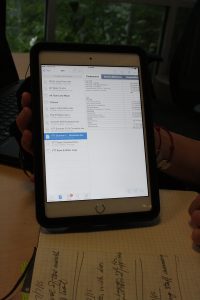 In the field, tablets are used by teams to keep a watering log, using an Excel chart. For example, one team watered 1,781 trees in a day. Each tree, each week is doused with 20 gallons, when there's not an inch of rain in a week. This summer each team uploads the log to Dropbox, so any staff member can view. And because KIB has a practice of watering trees that it plants for three years, that's a lot of data to keep track of.
These tablets are also used by the teams to document their fieldwork. Tree teams have captured their site work using the iPad to take photos, which can be used in future reports. Another benefit for the team leaders is customizing daily lunch menus. Since teen workers receive lunch as part of their compensation, when teens log in, they indicate their lunch preferences, and it allows variety.
The 2-year-old Urban Naturalist program works with a small group of college students. They are planting and tending new plantings that are watered with diverted storm sewer water. Citizens Energy Group partnered with KIB to grow native plants in the Fairfax neighborhood on the city's Westside in the area between the sidewalk and curb. Using tablets and Dropbox, they can log the rain garden best online casino usage and know exactly how many gallons were used.
INVESTMENT
Five iPad tablets with a discount $229 each
Five protective iPad cases with discount $109 each
Cloud-based CERVIS, monthly $175
Roaming package for iPad, monthly $25 to $30 per tablet
VALUE
While this is the first year using the tablets, Dennis' gut feeling is that she will have more complete information and is saving time, while giving staff accessibility to data in real time.
In the offseason, KIB plans to use these iPads for a survey project in partnership with a Butler professor and his class. Students will help canvass neighborhoods with pocket parks. KIB wants to know if these 10 to 12 green spaces they have established since 2012 are successful, how they are used, and what neighbors would like to happen in these new spaces. Using these tablets, students will log individuals' responses and using a static copy of Google Maps, tally the surveyed homes.
#2: INDIANA SOCIETY OF ASSOCATION EXECUTIVES
CHALLENGE
Katie Kirkton knew there had to be something better than using a master timeline spreadsheet and emails for her organization to keep track of projects and task deadlines.
Kirkton, director of marketing and member communications for the Indiana Society of Association Executives, says that with two full-time and one part-time staff and lots of volunteer committees, regular association events and an annual conference, there is lots to manage and keep organized. Additionally, each member of the staff needs to know the status of projects.
SOLUTION

Asana free, task-management software
A year ago, the organization's director learned about Asana, a free task-based software. It was created by Facebook co-founder Dustin Moskovitz and former Facebook and Google product manager Justin Rosenstein about four years ago as they were trying to manage internal projects and thought email wasn't an efficient tool.
ISAE staff saw it as a way to share the progress of assigning tasks and management of projects instead of by spreadsheet. As a web and mobile application, Asana is compatible with any computer and is designed to support teamwork. Information can easily be seen by anyone authorized by the organization and it keeps this small staff and committee members aware of all the ongoing projects and deadlines. The management tool can organize work by tasks or projects, and it's simple to pull up a work assignment.
(PHOTO) For Kirkton and her colleagues, it was as simple as creating a free account that resides on an individual's desktop; there is also an app when staff are traveling or want to access it remotely. It is free for teams of up to 15 people, and Asana provides tutorial videos on its blog.
One feature that has been particularly helpful, Kirkton says, is keeping track of tasks assigned to a committee member or another staff member. As due dates approach, the software generates reminder emails that are automatically sent to the responsible staff or committee members. Recurring tasks can be set up automatically, and something like a newsletter that Kirkton has regular responsibility for doesn't have to be manually reentered. Tasks can be subdivided as the work progresses and staff can rank, or have others rank, which jobs are priorities.
Each staff member and committee member can regularly check events and group responsibilities, like the organization's annual conference, and immediately see their status. Additionally, staff can add notes to a task or project and alleviate the hunt through past emails to check updates or its current status. Minutes from committee meetings can be stored, too. It also provides a daily snapshot of whether a staff member is available.
"It keeps us on task and we can also see what our teammates' task lists look like, and know when they are busy," said Kirkton. "We also use Asana with our committee volunteers, too, to share documents and assign tasks."
INVESTMENT
Training, online video tutorials available on the company's blog
Account is free for up to 15 staff or committee members
Company information: asana.com
VALUE
Kirkton says it is user-friendly, efficient, and the more staff use it, the more comfortable and proficient they have become. Over the past year, she has seen how it saves time emailing staff and helps the staff prioritize, and with a small staff eases the email communication volume. In fact, first thing every morning, she checks it, and daily it helps keep her on task. She also admits that with technology, you get what you put into it.
"We absolutely love it!"