by Rebecca Trimpe, writer/editor, IU Robert H. McKinney School of Law
Many professionals working and volunteering in not-for-profit organizations find it invaluable to gain knowledge of the law and how it intersects with their entity's efforts. You don't need a law degree to gain that skill set. Leaders at many Central Indiana nonprofits, who are graduates of or current students in the Master of Jurisprudence (M.J.) program at IU Robert H. McKinney School of Law, shared their insights into how the program has helped them in their positions.
Aura Day, who is on track to graduate in May 2021, volunteers through Families First on the crisis and suicide prevention hotline as a crisis intervention specialist. Day said she is gratified by the immediate impact the organization has on people's lives.
"Everyone needs support and assistance during different points in their lifetime and being able to support others is not only self-rewarding but it inspires others in many ways," Day said. "Some people need to hear it's OK to accept assistance. I believe we aren't supposed to do life solo. It's really a way we can start seeing how a small gesture grows into a making a huge impact to our neighbors." Day said the flexibility of the M.J. program held a lot of appeal because she was able to tailor the coursework to align with her specific interests and to choose from day, evening, or a combination of class times to fit into her schedule.
Arun Murali serves as President of the Board of Directors for Lawrence Township School Foundation and is on the Board of Directors for the Ronald McDonald House of Central Indiana. The 2017 M.J. graduate was drawn to IU McKinney from a desire to learn more about the legal processes that affected his business and to potentially position himself for future board member roles. Murali is passionate about not-for-profits that help people in need and in particular ones that focus on children's needs. "I think this is an important time for non-profits in the history of the world," Murali said. "I believe when most people hear 'non-profit,' they hear 'please donate money.' And while that is an important part of the dynamic there is so much more to it, like organizational leadership, financial management, marketing, volunteering, and more."
Eddie Rivers, a 2017 M.J. graduate, has worked as a guardian ad litem for more than 20 years and has served many child advocacy organizations. Rivers currently is the chief development officer at Kid's Voice of Indiana, after serving as its chief executive officer for 15 years. While he already had the skill set needed to work at the organization, Rivers wanted to understand law so that he could better manage the team of lawyers he supervised. "I ran a law firm with only managerial skills and a big heart," Rivers said. The M.J. program allowed him to focus his coursework on child and family law so he could better understand what the lawyers he worked with were up against in their work at Kids' Voice.
Melody Schulz took part in Leadership Johnson County (LJC) and, after completing the M.J. program in 2019, she was asked to join the organization's board of trustees, where she serves as a member of the Alumni Relations Committee. Schulz, a 2017 M.J. graduate, said that the program taught her to think differently and helped strengthen her analytical skills, which she uses to help monitor LJCs' finances, programs, and performance.
Maureen Shiel is on track to graduate in May 2021 and is IU McKinney's first M.J./M.A. in Philanthropic Studies at the IUPUI Lilly Family School of Philanthropy. She serves on the board of directors for Impact 100 Indy and serves as the assistant treasurer and vice chair of a grants committee. "I am passionate about non-profit work because I value peace for the human race and our planet," Shiel said. "I hope to contribute to transformational change in the Indianapolis community and around the world. An M.J. supports my work by enhancing my operational knowledge and ability to manage partnerships with the public sector."
To learn more about how the M.J. program at IU McKinney, visit the law school's website.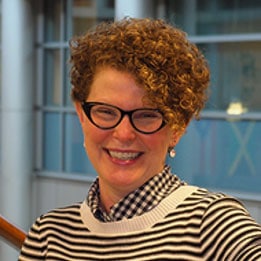 Rebecca Trimpe is the former editor and publisher of Indiana Lawyer. She also served as managing editor of what was then the Daily Ledger in Noblesville. Trimpe, who has a degree in political science and journalism from Indiana University, writes and edits for the I.U. Robert H. McKinney School of Law's website, as well as print publications.