INHP marketing executive recommends collaboration to better connect with audiences
by Shari Finnell, editor/writer, Not-for-profit News
(Note: A recent study by the IU Lilly Family School of Philanthropy revealed that a significant number of Americans do not understand how their lives are impacted by nonprofits. During the months of July and August, the features in Not-for-profit News will focus on ways nonprofits can elevate their profiles in their communities as well as increase the public's understanding of the nonprofit sector.)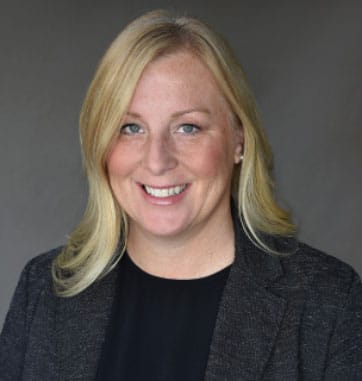 For many Indianapolis residents, INHP is a familiar acronym for good reason. As an established nonprofit, the Indianapolis Neighborhood Housing Partnership has been working to increase affordable and sustainable housing for thousands of households since 1988.
Yet, even with that decades-long history, the organization relies on numerous marketing strategies and tools to increase awareness of INHP among potential beneficiaries, donors, and enterprise audiences, said Morgan Hoover, CFRE, vice president of philanthropy and marketing for INHP.
And the team also has found that establishing partnerships with other organizations is essential to expanding its reach, Hoover said. "Working with community partners is key," she said.
By forming a partnership with La Plaza, for example, INHP has been able to reach individuals and families who may not realize resources are available to help them find housing. La Plaza is a nonprofit that supports Latino families in Central Indiana through educational programs, social services, and workforce development initiatives.
"We have a really strong partnership with La Plaza," Hoover said. "Their customers may not know INHP, but their customers need INHP support and services. You must have trusted partners in the space that you're operating, especially if you're not known in that community. We're reaching the consumers where they are," she said.
When seeking out partnerships, Hoover said, it's important to identify gaps in the populations that you're trying to reach, and then ask the question, "How can we connect with what you are doing as the trusted resource in their community?"
Consistency also is essential in developing a successful marketing program, according to Hoover. INHP focuses on having a consistent message year-round to make sure they're reaching their audiences. "You have to be out there letting clients know they can come to you for services, including those who may or may not know that they need them," she said.
In addition to forming partnerships throughout its service areas, INHP utilizes a comprehensive suite of marketing services and strategies, including earned, paid, and owned channels as well as more traditional methods such as radio, billboards, digital advertising, community, events, sponsorships, testimonials, videos, and blogs, Hoover said.
"We continue to evolve as an organization," said Hoover, noting that the team is continuously seeking areas to improve their core values continuous improvement.
"How do we always move the needle?" she said. "We don't pretend that we're relevant. We do the data and the research. We look at the analysis. We ask, 'What are the barriers that led to people being denied for mortgage financing?' 'How are we helping families achieve that access?' 'What's the identified barrier?' 'How are we positioned to serve and does that make sense in our wheelhouse?'"
The organization also continuously seek to understand how best to communicate to its varied audiences, including clients, donors, partners, and community stakeholders, Hoover said.
When asked about public perceptions of nonprofit, Hoover said people often focus on the tax status of the organization.
"We are a mission," Hoover said. "We are a business producing a social mission. People have this lack of general understanding about what a nonprofit is. They may think of nonprofits in terms of a tax status — not a way of doing business."