Earth Charter's Jim Poyser, Shannon Anderson and Tatjana Rebelle all are directors
by Shari Finnell, editor/writer, Not-for-profit News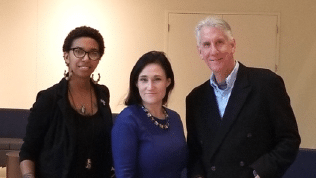 Pictured: Tatjana Rebelle, Shannon Anderson and Jim Poyser
Within the first year or two into his role as the first paid executive director of Earth Charter Indiana (ECI), Jim Poyser, the former managing editor for NUVO, felt a sense of uneasiness as he looked around the room during a board meeting.
"I remember thinking, 'We are all white and old.," recalled Poyser, sharing some of the history that led him to seek a replacement for his role as executive director of the 21-year-old nonprofit organization.
The homogeneous nature of the ECI's board in 2013 hadn't gone unnoticed by ECI board president Rosemary Glass Spalding, a long-time board member for the local nonprofit organization. "When I joined the board a few years before that, it was so glaring and obvious," Glass Spalding recalled. "And John Gibson, who was the one of the founders of Earth Charter Indiana, had a mantra that we will be an intergenerational organization."
Although ECI has since made significant developments in recruiting and maintaining a diverse board, Poyser also wanted to explore options for a new face of the organization.
Earlier this year, after a series of brainstorming and organizational meetings with ECI's staff and board members, Poyser accomplished his vision by abandoning his executive title and becoming the director of advancement. At the same time, co-workers Shannon Anderson became director of advocacy and Tatjana Rebelle became director of youth programming.
"We know that climate change is going to be most impactful to frontline communities, including low-income communities, communities of color and females," Poyser said. "I was doing a lot of presentations in schools and community centers. And I started to recognize that an older white male coming into a community to speak to people was never effective."
The path to a shared leadership model
Early on in his tenure, Poyser started the process of bringing more diverse voices to the forefront by asking others, including females and people of color, to represent ECI at speaking engagements. "I felt it was the right thing to do. I had my time to speak. I had my opportunities. And I'm not seeing things move quickly enough in Indiana regarding climate."
Years later, as part of the organization's strategic plan, the team was able to significantly increase its budget. That was when the organization was able to hire Anderson as a full-time assistant director, and more recently, Rebelle to oversee youth programming.
And in 2020, in the wake of increased demonstrations from white supremacists and civil rights activists protesting the murder of George Floyd at the hands of police, Poyser felt the time had come for the change in executive leadership he had been contemplating.
"It seemed like the right direction," Poyser recalled. "It was an instinct with the way things were unfolding around us."
Dismantling a hierarchy
When Poyser first approached ECI co-workers Anderson and Rebelle about his decision to hand over the reins of executive director to another person, they both paused at the prospect of disrupting a strong working relationship.
Anderson, who excelled in advocacy work, had no desire to take on the top leadership role. Rebelle had the same response. And neither of them was highly interested in the possibility of a new person taking over the leadership position because they all worked so well together.
So, after that initial conversation, Anderson and Rebelle, who had personally experienced the benefits of a shared leadership model while working at The Kheprw Institute, explored the possibilities of a shared leadership or distributive leadership model for ECI. While many researchers and thought leaders have long touted the benefits of this type of leadership, it hasn't become mainstream. 
"All three of us have these strengths that all balanced themselves out," Rebelle said. "The areas that I'm really interested in are the ones that Jim and Shannon might not want to do. We asked each other, 'What do you love about your job?' and 'What are some of the things you don't really love about your job?'"
That questioning led to a more formal work discussion in which all three team members hashed out answers to those questions in a Google document, listing the things they wanted to continue to do and those they would prefer to hand off to someone else, Anderson recalled. "There was a fluidity to it when we started moving things around," she said. "It was a three-person collaboration."
Anderson also said the pre-planning was critical for further adoption of the proposal.
"If Jim hadn't been part of this three-person collaboration, I think it would have been very hard to sell to our board," Anderson said. "But because all three of us were totally in sync on this almost from the moment it was brought up, everyone was really comfortable with it. It feels very organic and authentic."
Gaining board approval
Once they had a detailed plan on how the shared leadership model would work — with workflow charts and pie charts, the team had numerous meetings with the board to move forward with acceptance and implementation.
"There were some concerns and questions when we actually took this to the board to get feedback. And the obvious one is, 'Well, who's in charge?"," she said. "'Who's responsible, ultimately, to the board for achieving the strategic goals of the strategic plan?' And the answer is, 'They all are.'"'
During those meetings, they addressed how they would be accountable with each other and resolve conflicts.
"We've made a commitment to each other to be honest," Rebelle said. "We also decided to bring in the executive committee if there's something that the three of us can't figure out as a unit."
Based on her history of working at the organization, Anderson said, she anticipates that there won't be conflict per se. "It's good to be prepared for disagreements, but I think it will be more along the lines of 'We have two paths before us. And we're excited about both, but we can only do one.'"
The team's plan was convincing. Within a fiscal quarter, the board had adopted the new leadership plan.
A new way forward
Under the shared leadership model, the board will be more integral in the personnel aspects of the organization, Glass Spalding said.
"In the past, I and the executive committee did Jim's personnel evaluation and Jim did Shannon and Tatiana's. They're now going to do each other's in addition to their own self-evaluations," she said. "But the board will have to be more involved."
Along the way, other concerns were addressed, including the following:
What will supporters think? Poyser had been at the helm of ECI for more than eight years and is well known throughout the community and among funders. "The board was really concerned," Glass Spalding said. "Jim has been the face of Earth Charter Indiana for a number of years. He's a very dynamic person and there was concern that a perceived demotion or change could be detrimental to the organization. They didn't want to have any ramifications from that." Poyser addressed those concerns by pointing out that all three of the staff leaders can be considered the face of the organization. "Shannon Anderson is the leader of Earth Charter Indiana at places like the Statehouse," he said. "Tatjana is the leader in other sectors. From a biodiversity standpoint, it really makes sense for the strength of the organization to have a team of leaders who are all on the same plane. In a way, this is just formalizing what I felt to be happening already.
Would the executive director be OK with losing his title? Poyser said that he wasn't attached to his ED title and, as a result, didn't have qualms about losing the "executive" in front of his name. "My transition to director of advancement is a natural fit for a transition from executive director," he said. "The director of advancement and an executive director are very similar positions in the realm of grants and contracts."
The team members all acknowledged that they will continue to refine the new leadership model as they navigate changes in the coming months.
Glass Spalding said she doesn't anticipate any major challenges with the transition.
"In observing them, they're all very highly driven people. The personnel issues are very nuanced in terms of more of an approach to achieving the goals of the strategic plan," she said. "The question will be, 'How do we meaningfully evaluate whether they're achieving what we hope and expect?' As the year progresses, we want to make sure we're still on the same page, and that our expectations and their expectations and work match."
And the benefits of a shared leadership model far outweigh any difficulties in making a transition, Glass Spalding said.
"I do think, especially with a small organization, this is a really a very exciting possibility for organizations to look at," she said. "The upside is you have the ability to achieve a lot more with a lot less red tape or bureaucracy. It's very symbiotic and synergistic, words that are sometimes overused, but they really do fit this situation."
Anderson said it also is a significant step toward inclusion.
"People may be scared to take on a change like this because they can't imagine not being in control," Anderson said. "I don't think they realize that there's a better version of everything when we elevate different voices. Jim's not quitting. He's not retiring. He's going to be keeping us healthy going forward, but he's also letting other voices come forward. A lot of organizations could benefit from deciding to doing something different. It puts you on a path toward a better future where there is more inclusion and there are more people of color at the forefront of movements."