By Lynn Sygiel, editor, Charitable Advisors |
Kathy Souchet-Downey is big on making lists. Lists that nonprofits can use.
As a staff member of Congressman André Carson in Indianapolis, she regularly pulls together a list of recently released federal grants and emails it to organizations. All an organization has to do to receive it is email her at kathy.downey@mail.house.gov and request the publication.
But the grants' list isn't the only way Carson's office supports applicants. He is willing to provide his support by writing a letter to accompany the nonprofit's grant request. Souchet-Downey can also help field specific grant questions. With the Congressman's support, over $7 million in federal grant money was secured for nonprofit and community organizations in his district last year.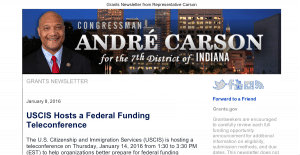 Kathy Hahn Keiner at Gleaners Food Bank of Indiana, Laura Feldman Miskin at College Mentors for Kids and Gregg Keesling at RecycleForce have first-hand experience applying for federal grants that had Carson's and other Indiana Congress members' support.
Since 2009, College Mentors for Kids has applied for five federal grants. In 2013, it was awarded a three-year $1.3 million grant for its work in five states. Feldman Miskin said the application itself created several opportunities.
"Most of my work my work at College Mentors for Kids is with corporations and foundations supporters, but this is a different ballgame," said the director of corporate and foundation development.
"It created an opportunity to talk with our career staff about ways to improve the programs significantly, where programs could grow and for the staff to think about how the federal government could support this effort. It brought innovations to a new level," she said.
Carson's office also provided guidance on building relationships with members of Congress in the other states where College Mentors work.
These three local organizations haven't applied for the same dollars, but rather from a variety of federal agencies.
For College Mentors the American Recovery and Reinvestment Act in 2009 provided its first funding, and later grants from the U.S. Department of Justice, specifically the Office of Juvenile Justice (OJJDP) was a fit. The organization has applied for five federal grants. OJJDP has identified mentoring as a strategy for preventing and intervening in juvenile delinquencies, and so it aligned with the organization's mission.
Keesling, RecycleForce's executive director, said his agency's grants come from two federal agencies – the Department of Labor and Department of Health & Human Services' subdivision, Community Economic Development (CED) Grant Fund. Since 2009, Keesling said RecycleForce has been awarded over $11 million in federal grants, including $2.1 million in the last six months, which is helping the organization add 40 jobs.

[content_box box_type="normal"]
Grants: There are three common types of federal grants: formula, project and matching.
Formula grants are non-competitive and are distributed to state and local governments based on quantifiable variables. For example, X dollars goes to every student in the state. These grants are allocated for broad purposes such as highway programs, education funding and block grants. Please note that although formula grants are initially non-competitive, once funding is received by a federal agency or state and local government, these dollars may be available to eligible organizations through an application or request process.
Project grants fund specific projects and services addressing a specific policy need identified by Congress. Availability of this funding fluctuates year-to-year. Project grants are most often competitive and available to eligible organizations through an application or request process. Examples of project grants include Wetland Protection grants through the U. S. Environmental Protection Agency or Minority Business Development programs through the U.S. Small Business Administration.
Matching grants require that the recipient contribute something towards the project — normally cash services or facilities to match a percentage of the grant. These are used to encourage recipient to efficiently manage the program. Matching grants are most often competitive and available to eligible organizations through an application or request process.
[/content_box]
Writing these proposals, however, is not for the faint of heart. All three said the timeframe is condensed, giving them six weeks to two months from first learning about the grant to the final submission. All three recommended a dedicated internal staff person that keeps everyone on task.
And not all their asks have been successful. Keesling said RecycleForce applied four times before it got its first CED grant.
"You've got to understand the rules at the federal level, and then you've also got to understand how you adapted those rules to your needs at the local level," said Keesling.
The system allows the organization to learn, if the grant is not approved.
"People historically chase the money, they fail, they get frustrated, they throw up their hands. It's a process," he said. "When you don't get a grant, you can request feedback from the reviewers about what you did wrong.
Feldman Miskin and Keesling said it is important that this is not the first time your member of Congress has heard from you and that you have established relationships.
"Hey, you never heard of me, but will you write a letter of support? Here's all the good work we are doing."
While there is a learning curve to develop strong proposals, using the government's online grant system also takes time to learn.
Hahn Keiner, Gleaners' Chief Programs and Agency Relations Officer, was introduced to the federal grant application process this fall. With the closing of the Double 8 stores, Congressman Carson hosted a food insecurity roundtable that Hahn Keiner attended and piqued Gleaner's proposal idea.
In April, Gleaners will learn if its proposal for a $100,000 Fresh Bucks Indy project will be funded. The pilot-project is modeled on the SNAP incentive program, which is used at Indianapolis area Farmers' Markets and allows a user's benefits go further by doubling purchasing power, up to $20, on Indiana-grown specialty crops.
If awarded, Gleaners will partner with Kroger at the 10th and Linwood streets' store. That particular Kroger has a high SNAP usage. The project would not only expand the SNAP participants access to produce year-round, but partner with a national retail store.
"We are hoping to get the grant because we think it's a viable project that could be replicated all over the country. We're really excited about it. There is a lot of opportunity even if we don't get it. The whole idea was it was successful at the Farmers' Market, but test driving it at Kroger, and it could go farther than that, if it is successful," said Hahn Keiner.
According to Keesling, Indiana is at the end of the line when it comes to federal grants.
"We don't have a culture that understands how to do it. With the work of Congressman Carson's office, we are starting to grow that. These are our tax dollars, and there is really no reason that they should go to New York or Oklahoma. We should think of the federal government as a partner."
The three had some general advice for nonprofits that are considering a federal grant submission:
Spend time on the specific federal agency's website, issuing the request, to understand how it thinks about the world, the language used and how it identifies a problem. That will help determine, if your nonprofit is a good fit, and the project aligns with the organization's mission and local community goals.
Ask area nonprofits that have received federal grants for tips.
Get comfortable with the government's structured online grant application system (grant.gov). Carson's office has a primer on learning to use the online application system.
Identify an internal project manager to help meet the deadline and create a timetable to complete.
Letters of support from members of Congress are a unique aspect of the process, so allow plenty of time to receive the required collaboration and support letters. The more support, the better it speaks to the project.
Get started early on grant elements that will require materials from external sources, like project's contractor bids and partner memorandums.
Spend time on the budget. Ask: Is it allowable? Expendable? Reasonable? Does it support program objectives?
Allot time to work on it in order to cross every "T" and dot every "I". Keep your writing clear and clean. It's not a time for creative writing.
After you receive the grant, keep members of Congress updated. Form collaborative partner committees.