by Shari L. Finnell, editor/writer, Charitable Advisors
For School on Wheels, an Indianapolis nonprofit that provides tutoring for children facing homelessness, the potential loss of funds from its annual fundraiser in 2020 would have been devastating — a significant blow to its ability to carry out its mission in the midst of the COVID-19 pandemic.
Education Celebration generates 25 percent of School on Wheel's annual budget, according to Amber Ewing Kostoff, CFRE, vice president of development. In 2019, it brought in more than $270,000 from sponsorships, live and silent auctions, ticket sales and a matching gift opportunity for about 400 attendees.
"It's a big deal for us," Ewing Kostoff said.
When Indiana started reporting its first cases of COVID19, School on Wheels event organizers immediately started considering alternative options for their 2020 Education Celebration. It was originally slated for April, just weeks after Indiana Governor Eric Holcomb started issuing statewide restrictions, including a shelter in place order, effective March 25.
"When all the news about the pandemic and the restrictions coming to fruition, we didn't feel comfortable about having an event with more than 400 people in a room," Ewing Kostoff said. At the time, we weren't sure how things were going to look like going forward."
As with hundreds of other nonprofits in Indiana, School on Wheels had invested a significant amount of time and resources into event planning because of multiple benefits. A successful fundraiser not only provides an avenue for generating funds, it gives nonprofits the opportunity to meet donors and volunteers face to face, showcase the mission, and recognize sponsors, volunteers and supporters.
While inclement weather always has posed a threat to plans for galas, 5Ks, parties and other event fundraisers in Indiana, COVID-19 has had an unprecedented impact — disrupting plans for nonprofit organizations of all sizes throughout the year.
Zoobilation, one of the most widely anticipated black-tie fundraising events in Indiana, was canceled for the first time in its 34-year history. Organizers originally had postponed the date, moving it from June 12 to August 14, in the hopes that it could be hosted in a safer environment for its 5,000 guests by that time. The fundraiser supports general operating expenses for the Indianapolis Zoo.
With COVID19 undergoing a resurgence, Zoobilation organizers last week announced its decision to cancel the event. "It was painful to cancel it but not difficult considering what was in the best interests of our guests and partners," said Julie McDearmon, CFRE, director of Institutional Advancement at the Indianapolis Zoological Society.
Organizers of Rev Indy, an IU Health Foundation fundraiser that supports statewide trauma and critical care programs, also decided to forego its 2020 celebration because of the potential health risks, said Carol A. Howard, executive director of Rev.
"We spent months weighing all the options to safely hosting Rev this year," Howard said. "Our number one goal as a leading healthcare organization is to safeguard the health, safety and well-being of all of our guests, vendors, chefs, entertainers and volunteers."
The cancellation of these major fundraisers followed extensive research and planning, according to their organizers. Some of the questions that emerged included: Do you approach sponsors and ticket holders about maintaining their financial contribution — even in the face of their own potential economic hardships? What about investing in the logistics of planning an alternative virtual event? And, with cases of COVID19 resurging in Indiana, how do you plan for future events?
"There's not a one-size-fits-all solution," said Zoobilation's McDearmon, who noted that she has previously worked at nonprofits of varying sizes and resources. "Ultimately, you have to do what's best to protect your brand and reputation as well as those of your sponsors and partners. If you can't host your event safely, then you need to weigh different options."
McDearmon said it's also important to include committee members in conversations about how to move forward.
Howard stressed the importance of being fluid with planning in the midst of a changing environment.. "We are in a time that 'new' event concepts can be born and executed safely during this time, which ultimately can create new opportunities for non-profits in the long term."
As part of its planning in the wake of COVID-19 and social justice protests locally and nationally, Rev organizers announced that some of the proceeds from its canceled 2020 event would be directed to the Iu Health Foundation's Racial Equity in Healthcare Fund.
Ewing Kostoff pointed out that virtual events may be a possibility. School on Wheels hosted an online option and, as a result of that event and the generosity of its donors, reached its fundraising goal. "Focus on what makes sense for your individual organization," Ewing Kostoff said. "It has to make sense for what you're trying to accomplish. Who is your audience? How do you get them engaged? What can your staff do in a short amount of time? Those are critical questions to ask."
School on Wheels Hosts a Virtual Event
When event organizers for School on Wheels' Education Celebration first understood the initial impact of COVID-19, they made plans to postpone the April event to June 25. "We hoped things were looking different by then," said Ewing Kostoff. "We also wanted to try to get the event in before the end of our fiscal year.."
With uncertainty increasing about the viability of hosting the June 25 event, the team started exploring another Plan B, an option that would take them into unchartered territory. The Education Celebration committee members researched online for tutorials on how to host a virtual event. They also contacted other nonprofits that had switched to virtual events, including Second Helpings and St. Mary's Child Center.
After making the decision to host a virtual event, the planning committee focused on several critical areas, including how to deliver value to sponsors. "By the time we got to March, we had already secured all of our sponsors," Ewing Kostoff said. "We felt we had to deliver the benefits that we promised them from an in-person event, something creative and equitable."
While the organization wasn't able to offer sponsors tangible items like a table with dinner, they realized they could adhere to the idea of highlighting their brands in a program. In addition to featuring the sponsors on the homepage of the Education Celebration site, they featured them in an ad in the Indianapolis Business Journal, social media posts and other platforms. "We tagged them at every opportunity," Ewing Kostoff said.
Another critical focus was the event's auction, which relied on the donations of local businesses. Typically, organizers would approach businesses for gifts to sporting events, concerts, hotel stays and restaurants. "We felt we couldn't go to those people and ask for those things," Ewing Kostoff said. "We didn't want to ask restaurants for donations at a time when they're closing their doors. We never want anyone to feel pressured"
However, Ewing Kostoff said she did heed the advice of some of her fundraising peers:"It never hurts to ask. Give them an option."
While the donated items were smaller in scale than in previous years, bidders paid more than they had anticipated. "They wanted to support what we're doing," Ewing Kostoff said. "We have the most amazing sponsors. They stuck with us and showed us, 'We're with you.'"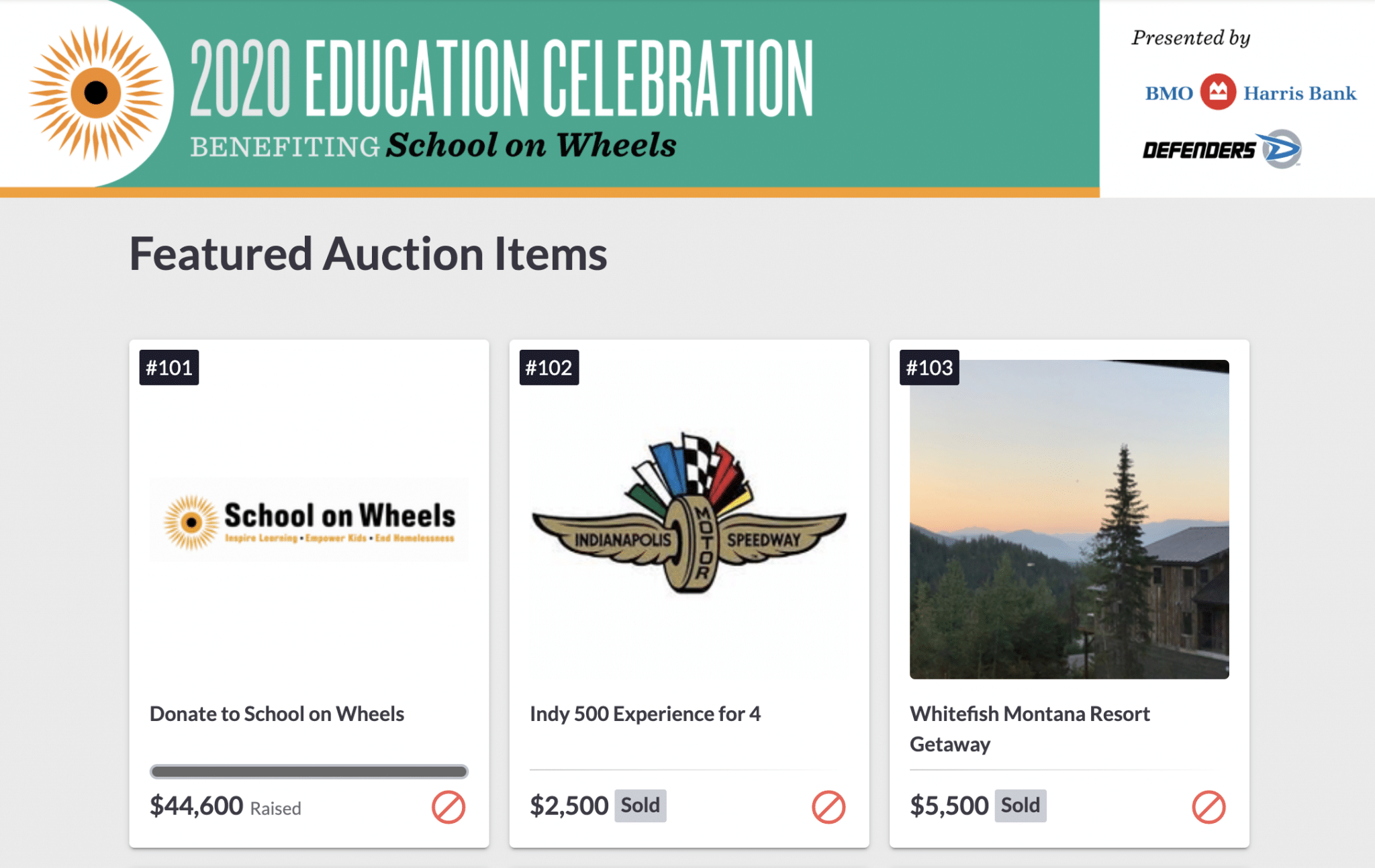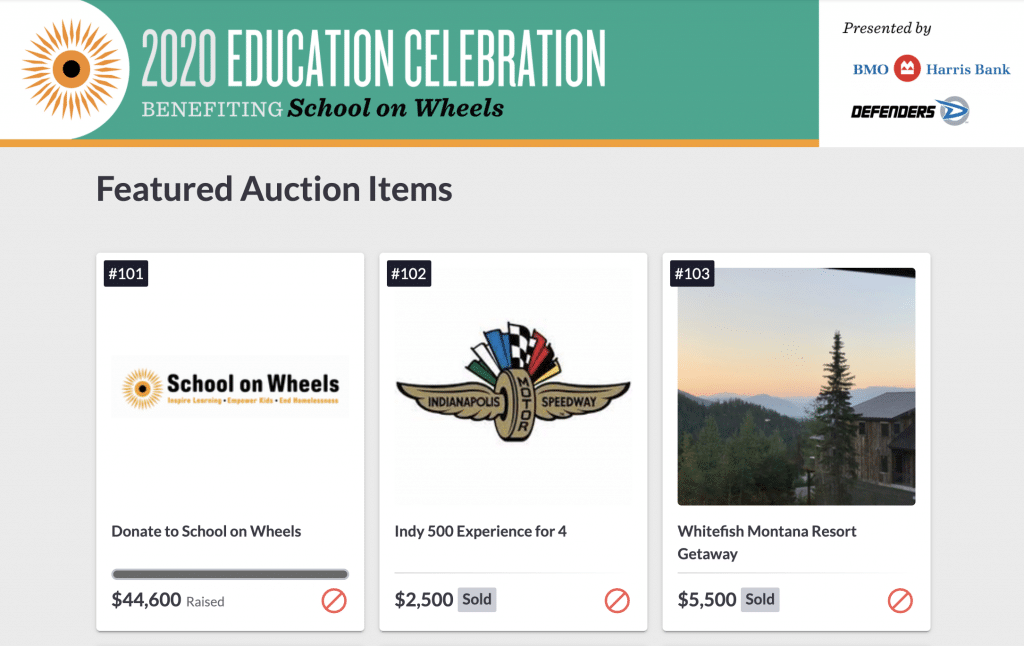 Promotion also was a key consideration as part of the event planning, Ewing Kostoff said. With an in-person event, organizers were focused on a limited number of people. That focus shifted significantly with an online event.
"We could widen the scope of our audience," Ewing Kostoff said. "With an in-person event, you're limited to the number of people you can put in the room. We reached out to all the supporters, sponsors and people who attended any of our events in the past. We let them know that we're doing a virtual event and invited them to sign up to receive text messages."
They also included online event details in newsletters and all of their social media channels, and encouraged their supporters to invite their friends to the online event.
When planning an online event for the first time, Ewing Kostoff said, it's important to keep the right focus. "Focus on what makes sense for your individual organization, what you're trying to accomplish and how to get your audience engaged," she said. "And focus on it being the best virtual event you've ever done. Don't try to compare it to what we've done in the past.
"That took the pressure off our team," Ewing Kostoff added. "We're really proud of what we were able to pull together. It was wonderful to see how many people came through that day and the next day."
Another key takeaway from Ewing Kostoff was the importance of conveying the message of the nonprofit's mission in the midst of the pandemic.
"We provide tutoring for children facing homelessness. We typically provide that tutoring onsite, in schools and in shelters," she explained. "When things started to shift in March, we really did have to pivot. We had to figure out how to reach those students. One of the barriers for a lot of kids we work with is technology. We started having conversations with our partners about ways to get students the tools they need so they don't fall behind."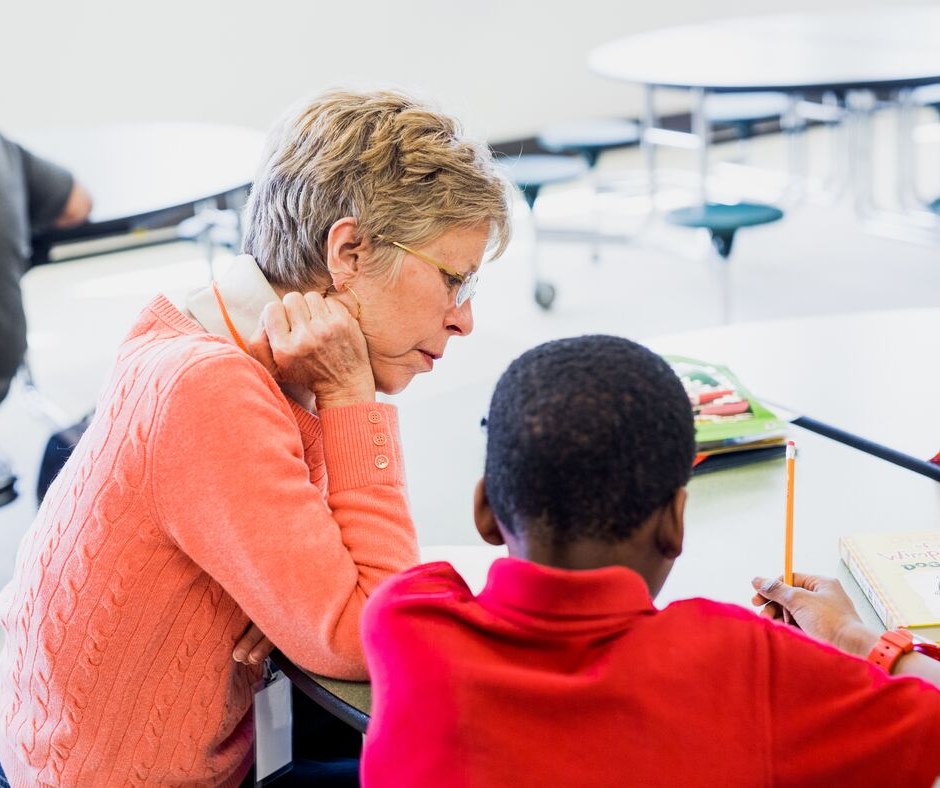 School on Wheels consistently explores different ways to convey the message behind its mission, Ewing Kostoff said. "Our mission doesn't go away. The need for education never stops, We try to stay focused on the importance of what we're doing and how to embrace new ways to talk about what we're doing."
Zoobilation Looks Ahead
While Zoobilation has an enviable reputation, selling out all of its 2019 tickets in less than 10 minutes, organizers don't take its popularity for granted.
"We pretty much plan the next year before we even finish the current year," said Julie McDearmon. "Before we decided to postpone, we were already planning Zoobilation 2021. We're constantly having to look forward — even strategically looking five years out to determine how to keep it exciting. It's a constant cycle."
Before its cancellation, Zoobilation 2020 was projected to raise $2.5 million in support of the zoo's mission of empowering people and communities, both locally and globally, to advance animal conservation. That amount represented approximately 8 percent of the Indianapolis Zoo's annual operating revenue.
When making the decision to cancel Zoobilation, organizers prioritized the health of its supporters as well as the long-term reputation of Zoobilation and its partners, according to McDearmon.
They also considered the economic fallout caused by COVID-19. "Our restaurant partners and many sponsors have been hit hard this year and are struggling. That was another strong consideration in canceling Zoobilation," she said.
McDearmon also said it was important to offer ticket holders various options in response to the cancellation of the event. They were given the opportunity to donate the cost of the tickets, ranging from $300 (general admission) to $600 (Premium Experience), as a charitable gift; repurpose the ticket for Zoobilation 2021 or request a refund.
"We know many people are struggling right now. All of us at the Indianapolis Zoo are grateful that people are being very generous and letting us keep their Zoobilation ticket fee or sponsorship as a full donation," she said. "We also realize that there are some who aren't able to do that."
Early on, as Zoobilation committee members discussed options for the 2020 event, they considered the possibility of hosting a virtual event, McDearmon said. Their research included observing virtual events hosted by other zoos and aquariums.
At the end, they decided it was not a viable alternative for Zoobilation. "When you have a production that's this big, you have to pay a lot to execute it well. You need to consider if you can give your guests the same experience they expect and pay for normally," McDearmon said. "Virtual events may work for some nonprofits, but the Indianapolis Zoo decided the event execution wasn't there for us."
As in previous years, McDearmon, her events team, and other Zoobilation committee members are already looking ahead. Plans for Zoobilation 2021 are underway, including logo and other creative development and corporate partnerships.
With COVID-19 impacting all nonprofits in some way, it's important to explore many options to determine the best path forward, McDearmon said.
"Every nonprofit organization has varying degrees of resources," she said. "There isn't a one-size-fits-all solution for every nonprofit as they navigate the special events landscape during this challenging time. My advice would be to protect your brand, image and reputation, and that of your sponsors and partners, when you determine how to proceed."
Rev Indy navigates a new path
For the past six years, Rev Indy has played a vital role in supporting IU Health's mission.

"Our funding goals have been focused and deliberate to ensure no matter where you are injured in Indiana, you can access IU Health Trauma Care," Howard said.
Funds raised from Rev 2019 were specifically directed to support 911 access trauma ESO integration, a new mobile critical care ambulance and trauma education.
Like other nonprofits, the discussions about what to do with Rev 2020 started early in the year, as COVID-19 cases were being reported in Indiana. The decision-making process involved several factors, Howard said.
"If we took a 'show must go on' perspective during a public health crisis, it may make our guests feel we are being irresponsible or inconsiderate of their health," Howard said. "The long-term impact could be a significant loss in giving. Since we are a healthcare organization, our decision will be under a microscope."


Also, since the serving of food and beverages is a significant part of Rev, many of the biggest contributors to Rev are facing economic challenges caused by the pandemic, she said. "Many restaurant partners have been facing months of lost revenue."
"Another consideration was the safety of staff members and volunteers working during the event," Howard said. "We had to ask ourselves, 'How will this outbreak impact the safety of our team? Are we risking their well-being?' These are questions we had to consider."
After outlining their concerns, the Rev committee consulted with its legal team to navigate options as COVID-19 updates emerged. "They were extremely helpful in looking into all of our concerns," Howard said.
With Rev attracting a large crowd of guests intermingling over food and drinks, the risks were clear, Howard said. "With large events, it is difficult to enforce social distancing and occasional bottlenecking of people in certain areas, such as entrances, egresses, and restrooms."
While the Rev committee eventually decided to cancel the event, they also used it as an opportunity to expand its impact.
"Over the last year, we have been looking to expand Rev's funding opportunities," Howard said. "In the wake of the Black Lives Matter movement, a donor asked how he could help IU Health do something about the stark differences in health among racial and ethnic groups, which were brought to the forefront during the COVID-19 pandemic."
Howard said that IU Health had already been addressing these differences on many fronts, needed a focused fund through which donors could support a broad range of initiatives.
"The IU Health Foundation created the Racial Equity in Healthcare Fund to support IU Health's work in advancing equitable care for all and we felt it was a perfect time to expand our funding opportunities," she said. "This fund will support creative and effective initiatives addressing health inequities among Hoosiers."
Rev ticket holders and sponsors were given the option to donate funds to the IU Health Foundation to reduce racial equity in healthcare or statewide trauma and critical care programs, or to transfer their tickets to Rev 2021.
Top sponsors who chose to donate their funds were invited to "Taste of Rev," an Aug. 1 event that allows up to four cars from each company to drive around the Indianapolis Motor Speedway, stopping at pit stop locations along the way for pre-packaged food and beverages and photo opportunities.
"We also accommodated everyone who requested a refund for this year's event if either options did not work for them," Howard said.