By Lynn Sygiel, editor, Charitable Advisors |

Business incubators have been around since the late 1950s. Their goal: to lend a helping hand to start-up companies through a variety of services that may include a working space, seed money, management assistance and networking capability. Incubators were especially busy in the past decade due to resurgence in the tech industry in Boston and the Silicon Valley in California.
With the downturn of the tech economy, there has been a rise in non-tech incubators and an adapted model for nonprofits. Unlike most for-profit incubators or accelerators, which exchange space and services for equity share in their clients' companies, most nonprofits are charged fees.
While there are several business incubators in the Indianapolis area, this year two sites emerged that are primarily focused on nonprofits and social entrepreneurs.
The Hub for Innovation, Vision and Entrepreneurship (HIVE) opened in January at Christian Theological Seminary on the Northwestside. Launch Cause was announced by Bloomerang this year and will occupy 6,800 square feet of the company's new building near Fort Harrison State Park in early 2016.
Brenda Freije is director of networking and recruitment at Christian Theological Seminary and Steve Shattuck is marketing vice president at Bloomerang and Launch Cause's executive director.
While both have used the word incubator to describe their spaces, both think it overstates the mission, but simply calling it a co-working space sells it short.
"We don't want to just call ourselves a co-working space because that is very passive. We don't want to be a space that is described as 'Come in, and good luck to you. We'll keep the lights on.'
"We're sort of in this in-between, where we want to offer some guidance, coaching and services and things like that, but we don't want to put someone through some sort of rigid programming. We also don't see ourselves as an equity stakeholder as an incubator would," said Shattuck.
Neither site provides grant or seed funding or has a competitive process to become a member.
"From a nonprofit standpoint, we didn't want to be that rigid but also didn't necessarily have the resources yet to incubate fully," said Shattuck.
"We've not gone down that path because that will be a big fundraising initiative. We're not going to close the door to that, but right now we're not there," said Freije. "We're not going to jump in the deep end before we really figure out what we can offer."
There are, however, some values that a nonprofit has to agree to in order to be housed at CTS. "We are a Christian institution. If that offends you, this is not the place to be. It doesn't mean that everybody has to be a Christian or the organization has to be, but that can be a deal breaker."
Both locations offer open working spaces and different levels of service targeted to new nonprofits.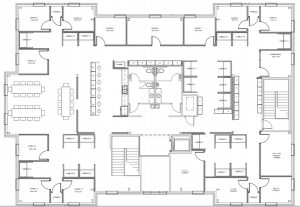 After outgrowing its current space, and working with the Fort Harrison Reuse Authority, Bloomerang will complete its own building next month, but will not occupy the entire 20,000 square feet. The extra space, Shattuck said, is a way to use a company asset for something "cool." The space, still a shell, has potential for build-out specifics for nonprofits.
Modeled after the Nonprofit Hub in Lincoln, Neb., the center will have three types of work areas – 30 open spaces, 21 cubicles that are semi-private, 14 offices and two conference rooms. Tenants may pay daily ($10) for short-term use or enter into longer-term agreements with prices ranging from $75 to $650 a month depending on the office services and type of space provided.
In 2007, Freije was pastor at Lockerbie Central United Methodist Church, which started the Earth House Collective for nonprofit ministries. When it closed in 2012, she began a conversation with CTS's president. The HIVE has made seminary unused space available for external members.
"Basically, we had a boardroom that was not being used. It was a large space that we could be using as a gift or a blessing to others if we just set it up," she said.
Everything in the space is movable, and fees, listed on the HIVE's website begin at $75 a month, and include a desk, access to the building, WiFi, a mailbox and other basic services like cleaning. The space, which officially opened in January, has five tenants. A CTS student who has started a nonprofit is the most recent member. This week, when Henry Timms the founder of Giving Tuesday is in Indianapolis for several public events, CTS will host a smaller lunch to which HIVE members are invited.
"The next step is to start helping emerging ministries and nonprofits become better at what they're doing. Are there things we can do as an educational institution? So slowly, we are adding programming that HIVE members get discounted rates to attend," said Freije.
CTS students are also working with the center. One student is researching best practices for social entrepreneurship centers around the country. Seminarians can also see nonprofits in action, see alternatives ways of ministering or volunteer with the nonprofits.
When Shattuck and Bloomerang's co-founder Jay Love started talking about their idea, they met Jacob Schpok, the executive director of Indiana's Office of Small Business and Entrepreneurship. The state established the office in 2013. Schpok told them that there are 100 co-working spaces in Indiana, but none exclusively for nonprofits.
Launch Cause will have business members who may or may not be tenants. Shattuck said his board of directors will help screen this group and possibly recommend them to the nonprofits as vendors.
Both sites welcome social entrepreneurs. This summer HIVE, together with Butler University's business school, hosted a community think-tank discussion about social enterprise. In part, they wanted to learn with community partners how to empower those who are taking pretty big risks.
At CTS, Freije said entrepreneurship is now a gateway class for entering students, recognizing that an effective pastor or community leader has to understand entrepreneurship and how to run nonprofit organizations.
'We've just reinvented our master's of divinity program and one of the five gateway classes that all new students take is entrepreneurship. We're starting to see that at other seminaries," she said.
"Our students need to know is there's no guarantee of a job when they graduate. You can pursue ministry in a lot of different ways and there's all kinds of opportunities, but it won't always look like you stepped into a salaried position in a church. If it does, that's really good."