By Sandy McCarthy, Retirement Services President, OneAmerica
I still remember the first time I read the OneAmerica® annual report. As a 30-plus year veteran of the retirement industry, I've seen my share of them. But this one was different, and, in the midst of discussions and interviews during the summer of 2018, its annual report was a major factor in my decision to join the company as president of the retirement services division.
Detailed in those pages were, of course, the financials. But more than that, I saw a company that cared – for its associates, its valued partners, its customers and its community. I believe that it's this genuine, selfless dedication to caring for others and contributing to the greater good that makes OneAmerica special.
Giving back as a company
OneAmerica takes seriously its role as a corporate citizen. From our involvement with the 500 Festival Mini-Marathon, the Broad Ripple Art Fair and the Indiana Repertory Theatre, to investing in our community through grant programs and charitable giving, we aim to better the local communities where our employees and customers live and work. In 2018 alone, we:
Supported more than 80 organizations, by contributing $2.2 million and 5,000 volunteer hours
Gave more than $800,000 in support for organizations that provide people in need with emergency help, including hunger relief, emergency shelter and counseling services
Provided $50,000 in regional grants to nonprofits across the United States from OneAmerica and our sales and field teams across the country.
Giving back doesn't end with monetary involvement or sponsorships. Our associates also pledge their time and skills as a team. During our annual Week of Caring, a weeklong "pay it forward" event started in 2014 by our Chairman, President and CEO Scott Davison, our associates devote time to volunteering for various causes. This September, approximately 1,100 associates took part, providing a collective 3,200 hours of compassion and companionship as they volunteered with nearly 30 nonprofit organizations throughout the country.
Individual associate contributions
No matter the corporate culture, an organization cannot truly give back without the support of its associates. At OneAmerica, I believe we have some of the best. Their passion and dedication to their local communities, through the United Way, the Red Cross, Dress for Success, Junior Achievement and more, is inspiring and makes me proud to work with such a selfless group.
I recently heard about one of our marketing associates, who spends Tuesday mornings helping Gleaners Food Bank deliver items to a neighborhood food pantry at 42nd Street and Boulevard. In addition to this physical labor, he is also devoting his time to help the food pantry start and maintain its first Facebook page.
Just as it is for so many of our associates, community involvement is personal for me as well. I sit on the board of the local chapter of the American Red Cross, and before coming to Indianapolis I served on the board of trustees for the Children's Center for Communication/Beverly School for the Deaf (Massachusetts) and as a mentor for the Entrepreneurship for All program.
Serving the tax-exempt market
The OneAmerica commitment to caring also extends into the way we do business. One of our major focuses is the tax-exempt market. Not only do we understand the unique challenges for these plans, we are proud to serve these organizations which are so important for our communities.
At OneAmerica, tax-exempt business is in our DNA. Our work in this sector began in the mid 1960s, and many of our longest tenured clients are nonprofit organizations. Our seasoned team is experienced in serving tax-code neutral plans and delivering personalized solutions that allow these mission-oriented, client-focused organizations to help their participants on their paths to retirement.
The spirit of caring for others and giving back is essential to the OneAmerica culture and is brought to life each day through our associates – both at work and in their personal lives. I'm grateful and proud to work for a company that reflects my values and strives to improve the lives of our customers, participants and neighbors – and for the chance to see that caring spirit, described in the annual report, alive and flourishing at OneAmerica each day.
OneAmerica is the marketing name for the companies of OneAmerica. Provided content is for overview and informational purposes only and is not intended and should not be relied upon as individualized tax, legal, fiduciary, or investment advice.
---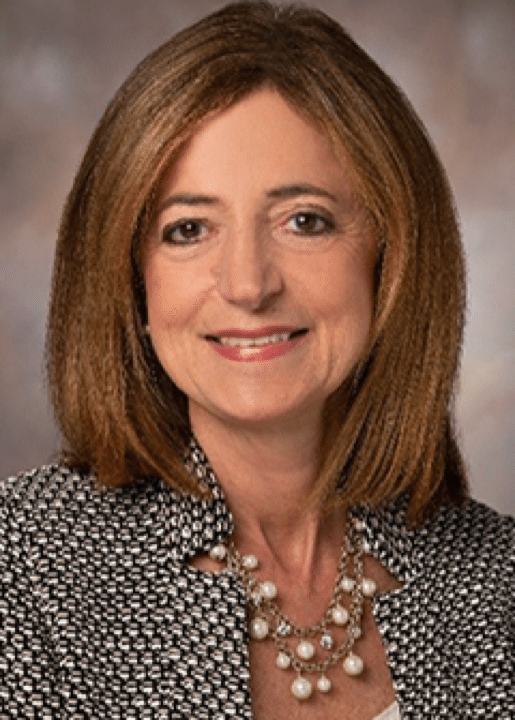 As president of the retirement services division, Sandy McCarthy leads the OneAmerica® team offering defined contribution and defined benefits services with a strong focus on customized retirement plans through highly personalized administration and recordkeeping services. She brings more than 30 years of industry experience, including executive leadership roles at Mercer, ING (now Voya), CitiStreet and most recently, her own consulting firm SDM Strategic Solutions.
McCarthy graduated with honors from Tufts University, earning both her undergraduate in sociology/education and Master of Arts degree in education, then completing an MBA from the Fuqua School of Business at Duke University. She served on the board of directors of the American Benefits Council, Spark Institute, Boys and Girls Club of Middlesex County Massachusetts and the Children's Center for Communication Beverly School for the Deaf. She was also a founding member of the Superannuation Industry Leadership Group in Australia. She currently serves on the board of the Greater Indianapolis chapter of the American Red Cross and the Employee Benefits Research Institute, based in Washington, D.C., and is a mentor for the Entrepreneurship for All (EforAll) program.