By Lynn Sygiel, editor, Charitable Advisors
Every day Chris Morehead and Sharon Holyoak have a common need: a dedicated corps of volunteers to help make their organizations successful. And both use terms like "delightful, devoted, extraordinary, passionate, fun and engaged," to describe the folks who have taken on that role.
For the past four and a half years, Morehead has been Newfields' assistant director of volunteerism and community engagement, and for eight years, Holyoak has been Carmel's Center for the Performing Arts volunteer coordinator. So, what have they learned that might assist a nonprofit looking to start a volunteer program?
Volunteerism has long been embedded in the Indianapolis Art Museum's DNA but after the rebranding of the museum and its entire surroundings as Newfields, volunteers now support all assets of the 152-acre campus, not just the museum galleries.
"In our most recent history, we've really looked at expanding our volunteer programs to embrace all aspects of what we do here," said Morehead. When Charles L. Venable took the helm in 2012 as director and CEO of Newfields, he was interested in growing the program.
"Our constellation of assets takes volunteers at the highest levels, across the entire spectrum to help support the institution in the way that we need. It's a full team effort, and it really feels like we've got our little village pumping at full volume for the entire community at large," said Morehead. "It's been the joy of my life building this program, and having incredible volunteers and staff members to really cultivate what we've built together as a team. We couldn't really do it without the volunteers that we engaged to help bring that experience for our guests."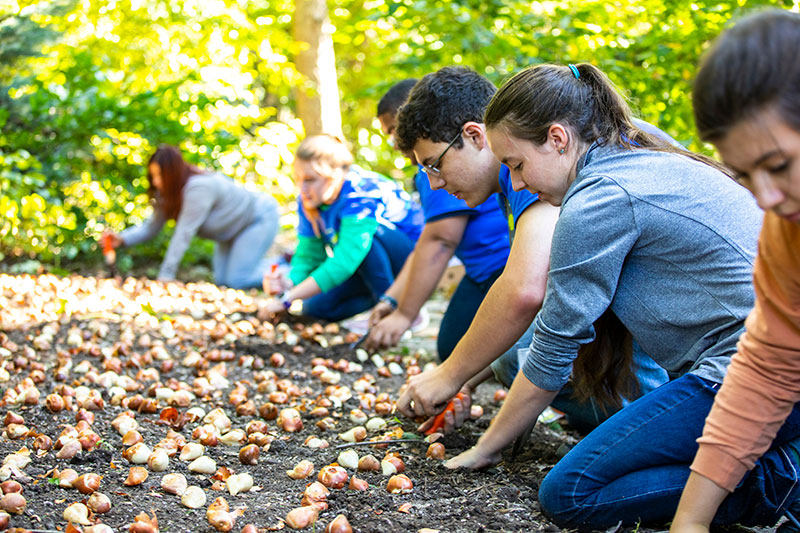 Holyoak said the same is true at the Center for Performing Arts. With three venues on campus — the Palladium, a 1,600-seat concert hall; the Tarkington, a 500-seat proscenium theater; and the Studio Theater, a versatile black box locale with a seating capacity of 200 — there are scores of events each year. A performance at the Palladium typically requires 40 volunteers on site.
"I don't think we could put on a show without the volunteers. It would be very difficult," Holyoak said. Since the Center opened in 2011, it has relied on these extra hands. When Holyoak took over the reins from Doug Tatum, who now is vice president of programming, the Center was new and people were clamoring to offer their services. As the event numbers have increased, she has formalized programs and initiatives, adding such things as mentoring and systemizing recruiting, scheduling and tracking time. This year, internally, she created a video to share at orientation. "It's not really about what they can do for us, but what we can do for them."
Both have different approaches to recruiting, which is ongoing.
"We really are trying to provide a diverse and inclusive experience for volunteers, as well as our guests at Newfields, and in order to do that, we really need to go out to the communities," Morehead said. This includes going to community fairs and festivals and including information in community bulletins; all to spread the word about volunteerism and designed to ensure that people can find information and connect.
Holyoak's program is still new and most recruiting is done by word of mouth.
Getting volunteers aligned with the organization's mission is an important aspect of all volunteer programs. The Center's mission statement recently changed and Holyoak shares it often with volunteers. Additionally, she reminds her team that the Center is a nonprofit, which she said often gets lost.
Similarly, Newfields has developed a mission for its program — to increase the capacity of the institution to serve its core mission – and that provides volunteers with a goal.
Volunteering in America 2018, a study by the Corporation for National and Community Service (CNCS), the federal agency that oversees AmeriCorps and Senior Corps, estimates that 77.3 million people volunteered in 2017. Although, volunteers' time has value, individuals cannot claim a deduction or value of their personal services on personal income tax returns. Typically, volunteers are not provided remunerations, and according to Samantha Brickler, the marketing and communications manager at the Arts Council of Indianapolis, the council isn't aware of any arts organizations that do pay volunteers.
Newfields currently has 760 active volunteers, who are regulars onsite at least once a month throughout the year. Their efforts are complemented by 900 individuals who help occasionally with events like Bulb-A-Palooza. Community teams, families and the FFA have helped with projects like planting and digging bulbs for the spring blooms display. Last year, the institution partnered with the FFA during its annual conference and will again this year. Morehead said, for example, it takes 18 volunteers daily for the eight weeks of Winterlights, the popular outdoor holiday display. For the fiscal year that ended June 30, total volunteer hours, including groups and individuals, exceeded 62,000 hours.
The Performing Arts Center has about 300 volunteers in its database, with applicants waiting in the wings for orientation. Annually, there are four sessions and are timed to offer opportunities for applicants to sign up for events shortly after orientation. For its latest fiscal year, volunteers logged 19,154 hours and using the Independent Sector's volunteer value rate of $25.43, this commitment equates to $487,086.22.
To manage their volunteer groups, both nonprofits use Volgistics, a management software. As Carmel's program grew, Holyoak moved from a spreadsheet to cloud-based software. In her research, she learned was that many area venues use this option. Available since 2004, she said the software is pliable. It allows individual to submit applications, and then that information is automatically fed into the database. It allows scheduling, and has an easy interface for logging in and out. Analytics are easily accessible to managers.
"Because it's cloud-based, our volunteers can sign up for events from home. It is easy for the volunteers who aren't terribly computer savvy," said Holyoak, who said the average volunteer for the Carmel-facility is in his or her 70s. Depending on an organization's size, however, there are different platforms that may be a better match.
To ensure good fits for the organization and the volunteer, most nonprofits write position descriptions for each available area, helping volunteers know what they have signed up to accomplish. Both also provide handbooks that serve as reference material of policies and procedures.
Teams are large, and in Holyoak's case, house managers in each venue help provide guidance for performances. At Newfields, Morehead has a team of 18 lead volunteers who help him manage, organize and provide direction.
"They help us design the protocols, which are the job descriptions, instructions for volunteers for what they're going to do in any shift. They're here strategically on the busy days, so Thursday through Sundays, we have someone here from the lead volunteer team; and then for things like Winterlights, we actually have two lead volunteers every single night of the entire event," he said.
Morehead is in charge of building a holistic picture of volunteerism for the institution. He said it was never expected that he manage all 760 individuals.
"Building a program that could help support that and work with different departments to determine how they might be able to engage volunteers is absolutely part of my charge. So, for example, working with our librarian and figuring out what volunteers could help her with to increase her capacity to service guests is part of my job. We work together to define a plan, a job description and then help recruit the individuals for that."
The Center's needs are different and most of its aides serve as ushers for its events. There is a specialized role for two individuals who give tours every other Tuesday and on demand. After recently posting it on the website, that has started getting more traction.
With Newfields' volunteers working on the entire campus, the needs are specific to the area, including serving as garden guides, docents in the galleries, tram drivers and guides, administrative office support, garden crews, frontline ambassadors and informational program guides. There are also affinity groups such as the fashion arts society, the horticultural society and contemporary arts. Its No. 1 volunteer with 2,000 hours helps the conservation science team. Morehead said if there's an interest, they'll find a fit.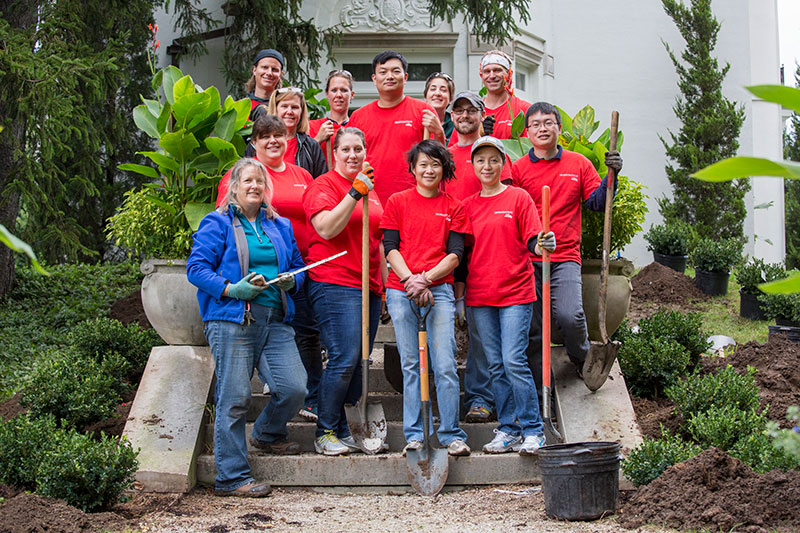 "That's one thing that we've always embraced, especially in recent times. Why are we holding back volunteers in different areas, why not embrace these areas that these volunteers want to participate," he said.
Finding ways to keep in touch is critical. Morehead sends a Monday newsletter, with an update of what's going on around campus and within the program. Then every Thursday, he sends out a help wanted for pressing or immediate needs. While Holyoak doesn't yet have a regular communication network, she keeps in touch by email and would spotlight individuals either on the Center's website or another communication.
Most nonprofits view volunteers as ambassadors, and Morehead said providing them with accurate information about programs and events is critical. Newfields provides talking points for just about everything it does, and particularly when it's a new or unique program, and these are distributed to volunteers.
"Providing volunteers with the tools to be successful, not just here on campus, but we know that they're going to carry that message forward to their community, their families, their friends beyond our walls, and that is incredibly important to us," said Morehead.
Regularly celebrating the achievements and contributions of volunteers is paramount. Both have annual recognition programs.
"We have several volunteer appreciation events throughout the year, which all culminate in our annual volunteer appreciation and reception and awards event every February. We recognize volunteer contributions at receptions throughout the year. I think really any time we are launching a new big program, it is an opportunity we love to take to recognize volunteers' efforts toward helping with the success metric," he said.
The Center has an annual recognition program, which includes an award for the volunteer of the year. Ribbons that list an individual's hours are distributed.
"That's a fun thing because people say, 'Oh, my gosh, you worked 2,000 hours? That's crazy.' They like that. Our CEO is wonderful; he thanks the volunteers from the stage at every major show we do. That's been huge," Holyoak said. For every 60 hours a volunteer works, he or she receives a voucher. Currently she is working to refine this benefit to equalize it.
"Obviously the people who work the most hours get the most vouchers and get the prime shows and there's limited seats depending on the show," Holyoak said.
Both work continuously to refine their programs. Every fall, Newfields has an annual volunteer survey. Morehead said typically a third of the active volunteers respond. And he takes the responses seriously.
"It takes about 15 or 20 minutes depending on how much feedback they provide. We've been doing a survey even before I got here. We try to keep it as consistent as possible so we're benchmarking ourselves from one year to the next.
"Then following every seasonal initiative, we launch what we call our three-question survey. The flash survey asks: How did you enjoy your experience? What would you do differently? What type of feedback do we need to hear that we're missing. We do that after all seasonal initiatives, that was for Winterlights and Spring Bloom as well. We get around 75 to 100 responses.
"We like to say that this is a volunteer program that was built by volunteers for volunteers," he said.
Some nonprofits have tried competition to motivate volunteers — most social media posts or likes on a Facebook page — but neither has tried this approach.
Combined, Holyoak and Morehead have worked over a dozen years with volunteers and have seen initiatives that worked and didn't.
Morehead has one piece of advice.
"Make sure you know what you need help with. A lot of people don't have well thought out plans. They don't put time and thought into what to do and what do we really want to put out there that we need help with. I always challenge people to think: What is the volunteer's function going to be? How are they going to get engaged in the space? Will they feel at the end of their shift like they had an impact? If not, that's probably a sign."
"Volunteers provide us with the ability to provide the exceptional experience that we hold ourselves to do for our guests. So as any nonprofit, I think in the world, we all tried to do as much as possible, while still being fiscally responsible with what we do. By engaging volunteerism in the way that we do, we expand our capacity to provide incredible experiences for our guests all year round," he said.