By Lynn Sygiel, editor, Charitable Advisors
As Teachers' Treasures executive director for the past four years, Margaret Sheehan works with volunteers daily. The Eastside nonprofit volunteer-run store, which opened in 2000, provides teachers access to donated educational supplies and other materials.
And while volunteers have been critical to the store's efforts, late last summer Sheehan added an employee to her staff — a paid intern. It was the nonprofit's first paid intern.
But the benefit was not just to the organization, but also to the student who is gaining professional experience in the workplace. The college student has taken on additional projects that a nonprofit would not have tackled as readily.
Recognizing that experiences like these develop workplace skills, the Indiana Commission for Higher Education took over the former summer work-study program, and it was renamed the Employer Aid Readiness Network (EARN) Indiana program in 2013 under Indiana Code 21-16-2. Last year the legislature approved $606,099 for each of the 2017-18 and 2018-19 fiscal years.
The program pays 50 percent of the intern's pay and is administered in partnership with INTERNnet, a free internship-matching program managed by the Indiana Chamber of Commerce. The goal is to help create or expand high-quality experiential opportunities. HB 1312 in 2013 expanded the program to allow for-profit employers to also access the matching funds. Previously, only government agencies, colleges and universities, and nonprofits were included.
In order to qualify for this practical experience as a paid intern, a student must be a full- or part-time college student with financial need.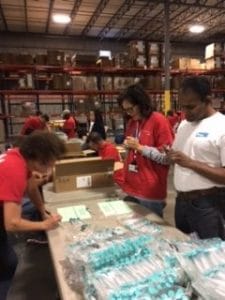 Teachers' Treasures is not the only nonprofit providing students with these workplace experiences. Last year, 113 nonprofit positions were filled, including an environment residential center, library and a municipality and rehabilitation center. In 2016, there were 102 interns hired by nonprofits.
Erin Crofton, the education director at Dunes Learning Center in Chesterton, said it didn't take long for her board to endorse applying to the program, and it has had a positive impact on the bottom line.
"We're always looking at budgets, and I thought 'Wow, it says that they will reimburse 50 percent of the salary for your interns for the time that they're here.' That sounds too good to be true," she said.
EARN Indiana interns can be hired during the summer or school year for at least eight weeks. Crofton hires naturalists during the school year, all of whom have graduated from college, so those program interns are not eligible for EARN Indiana dollars.
But in the summer, Crofton hires 10 residential environmental program interns who are still in college. While not all her summer counselors qualify, for the past two years she's had at least two. According to the guidelines, no more than 50 percent of a nonprofit's workforce can be interns.
But Crofton has found that not only does EARN Indiana help fund the intern program, it helps her draw applicants from a wider geographic region with the positions advertised on INTERNnet, which has a statewide reach.
For students, the database is searchable and includes a hotline for questions.
Both Sheehan and Crofton said the online application is straightforward. Once a nonprofit applies and submits a position description, it receives a response within five business days. After approval, the employer receives an email from the commission verifying the position title, work hours, pay rates and the employment timetable. A second email contains an employer agreement and the position is posted.
At Teachers' Treasures, Sheehan completed the application this first time, and the director of operations is taking care of the communication and reports. Crofton does both. Both said the customer service is great support. As long as the employer is in good standing, there is no limit to the number of times an employer can apply for EARN Indiana internship dollars.
At Teachers' Treasures, Maryann O'Connor, an IUPUI sophomore who has been employed since August, managed two projects – a STEM and an upcoming gala auction, as part of her experiential internship. For the auction, she met with board members one-on-one to ascertain where they might have connections, and then followed up with them.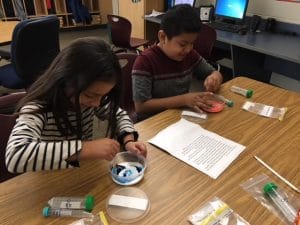 After Eli Lilly learned that 60 percent of fourth graders in Indiana had never had a STEM activity, the pharmaceutical company approached Teachers' Treasures to connect to area teachers. The EARN Indiana intern had experience in this area and worked with Teachers' Treasures staff and teachers to determine what type of kits would provide teachers. As a result the nonprofit built 2,000 kits to make slime, complete with Borax, glue, beakers and a teacher demonstration kit. O'Connor identified what was needed, and coordinated Lilly employees through an Indy Do-Day at Gleaners to assemble the materials.
"I am grateful for the real responsibility I've been trusted with," O'Connor said. "The STEM project allowed me to actually interact with teachers and see the results of this effort. I was able to take on a leadership role, which included writing the teacher instructions, managing the assembly and taking overall responsibility for the project."
Sheehan said that while this was a little outside the scope of what the nonprofit typically gives away, without an intern she would not have attempted it. She said there is always going to be an interesting project that you wouldn't take on without an intern.
"We had the right intern in place," she said. "She took responsibility. They were her projects — both very different."
And while Teachers' Treasures has gained, so has O'Connor.
"This internship has helped me better understand my career path. It applied my course work to a nonprofit and has been a valuable hands-on experience. I am interested in continuing to work with nonprofits," said O'Connor who is double majoring in international studies and Spanish and is working to complete the nonprofit management certificate. She said this internship was an opportunity to see a nonprofit up close.
"It's been great working with a small staff, which allows you to see the key components of the operation at work. The organization has an executive director, volunteer coordinator, events coordinator and operations manager and you can see how they function together."
O'Connor said that it is important that those not in the nonprofit sector apply for nonprofit internships. She has friends who are business majors, and are having difficulty finding one. Her advice is that business managers can see all sides of an operation on a smaller scale.
Reporting the EARN Indiana's intern's hours can be on an ongoing basis or be a one-time payment.
"You just have to have all of the reporting done by a certain date, and you can just get a check then or you can do it ongoing. I like to do it ongoing just so I make sure, I don't have to dig for stuff. The program provides that flexibility," said Crofton.
If a nonprofit is considering applying, Crofton offers simple advice.
"Absolutely do it. There's nothing you could lose from it."
Key is to keep in mind why you're doing it.
"My major recommendation for any internship is always keep in mind, why are you doing the internship and what are you providing the student. I believe that internships are not for the organization itself necessarily. It's really you're helping move this individual along in their career.
"Provide a good experience. I think EARN does that because it has to be experiential, and an intern cannot just get coffee and make copies all day," said Crofton.