By Jennifer Pittman, senior director of community affairs, OneAmerica
Springtime is a season of creative renewal. Early-season rain showers give way to colorful blooms and flowering trees. Then in mid-May in Indy, springtime pops in unexpected ways as hundreds of local artists present their work at the annual OneAmerica® Broad Ripple Art Fair (BRAF). 
The event has become a favorite annual tradition for many of the 1,400 Indianapolis-area OneAmerica® associates, who love to volunteer and soak up inspiration that lasts long after the last artist booth is packed up for the year.
In 2018, BRAF lit a creative spark with some OneAmerica associates, who asked, "What if we didn't have to wait a full year for this kind of artistic inspiration? Could we find a way to sprinkle a little bit of this magic throughout the other 11 months?"
Through our strong relationship with the Indianapolis Art Center and OneAmerica leaders who enthusiastically support creative community connections, the short answer was, "YES!"
At the time, a floor of the OneAmerica Tower downtown was undergoing significant renovations to create a vibrant, versatile OneAmerica conference center – a space for associates to brainstorm and collaborate, but also to showcase our building and culture with financial professionals and visitors from our community and beyond.  What better place to create our own mini-BRAF year-round?
In April, the conference center became home to a rotating exhibit of two-dimensional art, curated in collaboration with the Indianapolis Art Center. Four times a year, we select a new mix of work from local artists. Artists whose work is featured receive an honorarium for each piece displayed and the opportunity to offer those pieces for sale. And our associates draw inspiration from the space, especially during cold winter months when we're eagerly awaiting the first signs of spring…and BRAF!
By the time the 2019 edition of the OneAmerica Broad Ripple Art Fair had occurred (May 18-19) we had truly come full circle.
So what's the connection between arts and financial services? First, art and the artists who create it matter to us because they make our hometown more vibrant. We simply can't imagine an Indianapolis devoid of creativity or artistic perspectives. In celebration of those talents, our home office is filled with the works of Hoosier artists that enhance our workspace and elevate our spirits. Participating in BRAF is another opportunity for us to connect with and support our creative community.
BRAF also helps illustrate why our work in financial services is so important. "403b" is an essential phrase at OneAmerica, because it refers to a special type of retirement plan for nonprofit organizations – like the Indianapolis Art Center. The mechanics of preparing for retirement may seem complicated, but our philosophy is simple. Everyone deserves to retire confident in their finances, especially those who have dedicated their careers to serving others and making our community a beautiful place to be.
Since 1964, we've been helping nonprofits in our hometown and across the country with their tax-exempt retirement plans. And in 2016, OneAmerica launched a Tax Exempt Center of Excellence (COE) website to serve as a central hub for financial professionals to access everything from market insights to information about tax-exempt products and services. It's another way we serve those who serve others, by sharing our experience in the unique challenges and opportunities in the tax-exempt marketplace and providing other financial professionals supportive tools and resources.
At OneAmerica, we're firm believers that strong community partnerships require 360 degrees of connection between community organizations, the people they serve, and our associates. The new OneAmerica conference center rotating exhibit is just one more shining, creative example of this philosophy in action.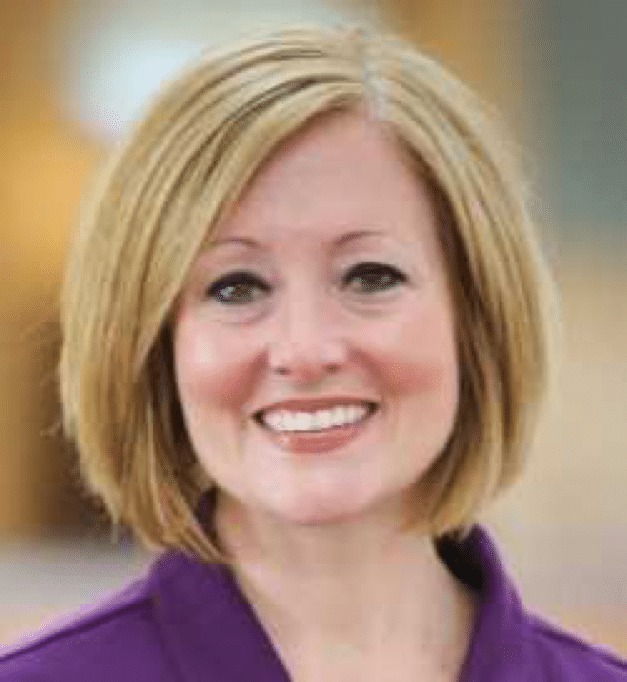 Jen Pittman is a leader with passion for building a stronger Indianapolis community. Her professional pursuits and personal endeavors represent a unique blend of corporate, government and nonprofit impact.
OneAmerica is the marketing name for the companies of OneAmerica. Products issued and underwritten by American United Life Insurance Company® (AUL), a OneAmerica company. Administrative and recordkeeping services provided by McCready and Keene, Inc. or OneAmerica Retirement Services LLC, companies of OneAmerica which are not broker/dealers or investment advisors. Neither AUL, OneAmerica Retirement Services, McCready and Keene nor their representatives provide tax, legal fiduciary or investment advice.