By Lynn Sygiel, editor, Charitable Advisors
The term "pathfinders" is often used to describe a person or people who leads a pack and shows the way. Seventh-day Adventists call their youth group by that name, and there is a role-playing game comparable to Dungeons & Dragons with the same name.
As such, it's a fitting name for one of the Infosys Foundation USA's signature programs, the Pathfinders Institute. The foundation launched in the U.S. in 2015 as the company's nonprofit.
For the past two summers, teachers from around the country, both elementary and high school, have spent a week on Indiana University-Bloomington's campus immersed in computer science and maker education courses. So far, over 1,000 teachers have accepted the foundation's offer, and have left the campus armed with practical knowledge and ideas for classroom lessons. In many school districts, they are truly the pathfinders.
Kate Maloney, the Infosys foundation's executive director, joined the foundation's team in February. This summer, she witnessed these teachers build their confidence.
"I watched teachers come in slightly trepidatious and excited on the first day, but more on the terrified end of the spectrum, and then they left a week later so empowered," said Maloney. "They knew they needed to bring this inspiration into their classrooms."
In informal conversations with teachers, she listened as they animatedly told her stories about what they were learning. She observed their growth in classes like those offered by the KISS Institute for Practical Robotics (https://www.kipr.org).
"These teachers were using robots to do all sorts of things. It's the arc of their journey — watching them start with a blank slate, all the way to developing the impassioned, confident teacher. I think that is the positive lesson. We hope that Pathfinder teachers go back and influence (students)," Maloney said.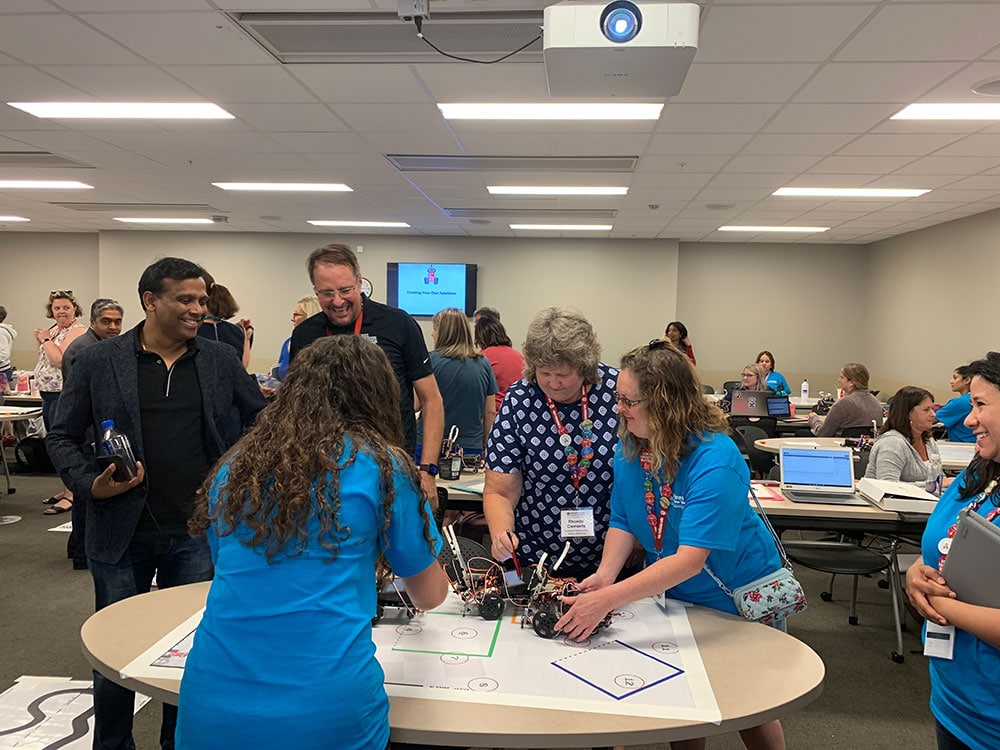 A key partner in this work has been Indiana University where the effort has been spearheaded by Laurie McRobbie, the wife of IU President Michael McRobbie. Both McRobbies have computer science backgrounds.
As a woman in the field, Laurie McRobbie, with 25 years experience, has seen the world of technology begin to address the gender gap.
"We're seeing a concerted effort to address it, and a real, much deeper commitment on the part of a lot of organizations. I don't think it's moved the needle yet in any really significant way, but there are some bright spots to point to in the state of Indiana," McRobbie said.
According to criteria compiled by the financial technology company SmartAsset, Indianapolis has been ranked as high as fourth in the country for women in tech. That 2017 ranking has since fallen to 14th in 2019, but remains in the top 25 percent of the country's major cities. In Indianapolis, the tech workforce is approximately 25 percent women, according to SmartAsset.
In 2016, the McRobbies were invited to attend parallel conferences sponsored by Infosys in San Francisco.
"I was invited to participate in the foundation's conference, along with a couple of faculty members from the IU School of Education in Bloomington and a number of other computer science educators from around the country, including the founder of Code.org," said McRobbie. "We talked about the importance of computer science education. We talked about a lot of what we need to do to address this problem is to address it as early as possible in terms of exposure and essentially mainstreaming this study of computer science in our schools."
After this conference, McRobbie and then-Infosys Foundation USA director, Kaustav Mitra, continued the conversation about the impact the foundation could achieve. Creating a professional development opportunity for teachers could be the key. The IU connection was hatched.
"I remember, we just started talking about here we are in the middle of the country, and this is an area that is growing its tech sector. We don't want the tech environment nationwide to be bicoastal with nothing in the middle," McRobbie said.
Together, they decided that IU would host the Pathfinders Summer Institute and McRobbie said the university's events team jumped in to provide a remarkable onsite experience.
"We all sort of viewed it as a bit of an experiment. It wasn't clear that we would get the numbers that we had hoped," she said. "There were all kinds of questions about how that might go, but it was incredibly successful. People got a lot out of it, and they loved being on the Bloomington campus in the summer. We've just gone on from there, and I'm thrilled that we're going to be able to do it again in the summer of 2020."
She said it's been a wonderful opportunity for IU's faculty, particularly for faculty who are looking at the evolution and development of curriculum and pedagogy and tools in the classroom. They are able to see what's working.
Two members of IU's faculty were in San Francisco with McRobbie at the outset, and according to her are national leaders in the area of maker education. Adam Maltese at the elementary level and Anne Leftwich have been prominent in education research circles.
"I think for them to have this, ready-made, practicum with working teachers, has got to be an incomparable opportunity to further what they're doing and their understanding of what works," said McRobbie.
In many school districts, teachers understand that the world is becoming more digital, and a strong understanding of computation, networking and systems interactions (hardware and software) is important to students' future opportunities. Couple that with the fact that in Indiana, by 2021, implementing computer science curriculum is mandated by law (Senate Enrolled Act 172). So, it's not surprising that this year, 25% of the teachers at the institute were from Indiana.
Zach McKeever, an engineering and technology teacher at Lafayette's McCutcheon High School, was one. He attended both institutes to learn computer science principles and computer science discoveries. This summer, the institute offered 19 different courses offered by 15 professional development providers.
"I was looking for some training with computer science in order to further my curriculum, and to better prepare my students for a world with computer science being at the forefront. I came back for a second year for a different class because of the experience I had the first summer," said the sixth-year teacher. "I would definitely say it's the best professional development that I've ever been to. Getting teachers who have the summer off, who've got kids, who've got other responsibilities, to take a week out of their summers to learn some new stuff for their students because they find value in it, is saying something," he said.
McKeever said he didn't learn computer science skills in college, but knows the importance for his students. He was among 92 returning teachers. The foundation offers 50 percent of the funding for tuition, airfare and accommodations, with school districts and DonorsChoose.org providing matching funds so teachers can attend at no cost. This summer, 177 of the more than 400 teachers requested funds through DonorsChoose.org.
A byproduct for McKeever has been the community of learners he's a part of. Starting out, he knew two area teachers who taught computer science. At the summer institute, he connected with a group of nearly 30 teachers who continue to talk to share lessons and teaching strategies via texts and emails. He said, they even share different Kahoots, which are teacher-made lesson quizzes.
McKeever's classes are electives, and the foundation for his computer science classes is Code.org's curriculum, which is free online. A Pathfinder partner, Code.org is a nonprofit dedicated to expanding access to computer science in schools and increasing participation by women and underrepresented minorities.
What is encouraging is that according to McKeever, both genders were well represented. Many of the instructors were women. There was diversity, too.
"I think that has a lot of do with what you're talking about that they're trying to target people from those schools that are a higher need. Because the curriculum, specifically for code.org, is accessible to everybody. So they want people to know about that and buy into that. All you need is a computer and Internet access. Which is still a big ask, but you know, to me, income and where you come from should not determine what you can learn. All it takes is creativity. It takes creativity and a willingness to learn, and you can get that from any student," said McKeever.
Melissa Babcock, a Providence, R.I., fifth-grade teacher, would agree. Her elementary school has 94 percent of its students living in poverty. While her school is behind in technology, the administration is supportive of her efforts. Last year, she and another teacher taught an after-school coding and robotics class. They were in Bloomington this summer to learn more, and both will attend Infosys Foundation USA's Winter Institute, which will be held in Providence in February. At both McKeever's and Babcock's schools, every student has a Chrome book, but may not have Internet at home.
This summer, 272 teachers were from Title I schools and 134 were from rural schools. Teachers in attendance represented 45 states and the District of Columbia. IU worked too, to encourage rural teacher participation. Oftentimes, McRobbie said those are schools with just one teacher providing this coursework without a lot of colleagues.
McRobbie said IU is honored to be partners.
"I think it is a hopeful sign to see this kind of investment. Teachers have some knowledge about computer science and some knowledge about how to teach, but oftentimes they're as much students as their own students," she said.
"I think that is very much aligned with our mission as a research university and our commitment to educating Hoosiers and people outside the state as well. So we're really seeing this as a wonderful alignment of our mission, Infosys' mission, addressing a crucial social need and a crucial educational need. We're honored to be doing it," she said.
---
As the nonprofit arm of Infosys Limited, a multinational India-based information technology company, the foundation hopes to affect computer education through its professional development work with teachers, and ultimately ignite a spark for students. Here are some examples of its work.
A regional institute
In February, Infosys Foundation USA is offering its first ever Pathfinders Winter Institute. It will take place in Providence, Rhode Island from Feb. 16 to Feb. 20. Applications for K-12 public school teachers are open through Dec. 16 on the Infosys Foundation USA website.
Grants to nonprofits
Some examples of grant recipients are Code.org, the Hispanic Foundation to offer family coding nights in Spanish; Teach for America to build computational thinking capabilities with cohorts in particular cities and the Girl Scouts for a badge program called Coding for Good.
This year for Computer Science Education (CSE) week, Dec. 9 to Dec. 15, Infosys Foundation USA is supporting activities. Traditionally, it has given out micro-grants during this week, but this year are working with existing grantees to hold events during that week.
Some examples:
Dec. 10: Family Code Night in Providence, RI
Dec. 13: LOFT Coder Summit (with Hispanic Heritage Foundation) in Richardson, TX
Dec. 14-15: Girls For Tech Hackathon in Hartford, CT
Policy conference
Crossroads conference (May 2020). This signature event brings together thought leaders to explore ideas on increasing access to high quality education in computer science, coding and making, with a particular focus on equity and inclusion.
Infy Maker awards
Through the Infy Maker Awards program, it supports today's makers at schools and in communities, encouraging them to become our next generation of inventors. This #InfyMakers awards program, launched in June 2015 to celebrate the White House's "National Week of Making", recognizes the Maker Movement and inventors.