By Patrick M. Rooney, associate dean |
Barbara Coury didn't get into fundraising for accolades, but she's receiving them anyway.
American Red Cross President Gail McGovern recently presented the national organization's Presidential Award for Excellence — the highest honor a Red Cross employee or unit can receive — to Coury, chief development officer for the Indiana Region, and her development team.
It's a well-deserved award. During the past fiscal year, Indiana was third in the nation in total dollars raised against its goal, exceeding the target by 124 percent.
What's the key to their success?
"The Red Cross has increased its emphasis on reaching out to major donors in addition to the vital support we receive from smaller gifts," Coury says. "In Indiana, we focus on engaging with individual donors and self-accountability. Each fundraiser reports weekly on several key metrics, including the number of visits with donors."
Those visits are paramount.
"Fundraising is about the donor, what they value, what they want to accomplish, and where that overlaps with the organization's mission and values," she says.
Which is why a fundraising career intrigued Coury in the first place. Originally a research scientist, she found that socially isolating. A friend's role as a major gift officer at Purdue University appealed to her.
"To go out and interact, tell people about your organization and engage them — I thought that was important," says Coury.
She became a development officer at Purdue's Krannert School of Management and came credentialed as a Certified Fund Raising Executive. Following development leadership roles for St. Richard's School and the Community Health Network Foundation, she joined the Red Cross in 2012.
"I love the Red Cross and its mission. We have services for the military, blood donation, volunteer opportunities, training and more. There's something for everybody. And the staff and the volunteers care so much. They just want to help someone on their worst day, to make it better."
What works
Coury shares some of the wisdom garnered during her career:
Focus on visits. Get out of your office and see people.
Educate donors about your mission and your work. People know the Red Cross for major natural disaster relief, but don't realize it responds to three home fires in Central Indiana every day.
Engage your board in fundraising and help them succeed. This extends your reach and you need their circles of influence. That's where the magic happens. Executives complain that their boards don't fundraise, but nonprofits often don't equip them. Staff them and specify what you need them to do. Provide an elevator speech, tell them whom to call, trust them and hold them accountable. When they succeed, they will feel great about it.
Celebrate successes. It's rewarding and it builds confidence.
Coury encourages fellow nonprofit professionals to continue learning, as she has. She earned her Master of Arts in Philanthropic Studies degree through the IU Lilly Family School of Philanthropy's Executive M.A. program and a Certificate in Fund Raising Management from The Fund Raising School there.
"The executive program's liberal arts approach to understanding the philanthropic sector is invaluable.
"It gives you not just the skills to help, but an understanding of how and why to help, and it provides the most academically rigorous education," says Coury. "The people I've referred to the program have found it changes the way they think and their life goals."
---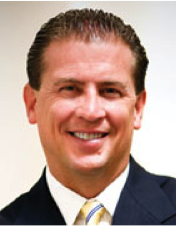 Patrick M. Rooney, Ph.D., is associate dean for academic affairs and research at the Indiana University Lilly Family School of Philanthropy at IUPUI.
[content_box box_type="normal"]Thinking about continuing your education? Learn more about the
Executive Master's Degree in Philanthropic Studies
and check out professional development opportunities offered by
The Fund Raising School
.[/content_box]