Best channels to help employees understand their retirement picture
By Melissa Musial, marketing research and data manager, OneAmerica
As a nationally known record-keeper interested in aiding employers with their employee-retirement-plan objectives, the question of whether retirement plan participants have ample education on financial fundamentals ─ and whether increased education on these topics is needed ─ is foremost on our minds at OneAmerica.®
By financial fundamentals, I mean basic budgeting, credit scores and monitoring and debt management; all cornerstones of personal finance and topics that are instrumental to an effective financial wellness curriculum.
Without ample education, adults are often on their own to understand and navigate the delicate balance of paying off owed debt, living the life they want to live, and setting enough money aside to prosper after their work life is completed.
OneAmerica takes the pulse of participants frequently, and in 2017-18, it conducted its largest-ever survey of retirement plan participants, including those who work with tax-exempt organizations like yours.
The poll of more than 12,000 respondents[1] showed that participants report the highest knowledge levels on the topics of budgeting, credit and debt monitoring and management (95 percent) which is great news, as it indicates educational efforts focused on these topics are influencing audiences.
But the poll also shows that more than 60 percent of respondents lack knowledge on basic investing, retirement plan features, insurance planning and withdrawal strategies at retirement. Additionally, more than one quarter of survey respondents indicate they are only knowledgeable on two or fewer of nine financial wellness topics ranging from budgeting to college planning to personal taxes and that those who are less knowledgeable are more open to receiving education.
Given these results, there is clearly an opportunity for education that OneAmerica encourages plan sponsors (or the human resources professional at your organization) to embrace, because insight is only good when action follows. The company believes it is important to continue to provide education on topics of budgeting, credit and debt monitoring and management, as survey participants did not appear to be applying their reported knowledge.
Equally as important in an effective financial wellness curriculum is including education on those topics that participants report lower knowledge about and that are often a barrier to full-plan participation — for example, investing and retirement plan features.
While the industry is making it easier for participants to begin preparing for retirement with the use of automatic plan features, without education on investment fundamentals or retirement plan specifics, participants may be under preparing or feel that the automatic features are enough to prepare them for a successful retirement.
Tailoring education for pre-retirees regarding to withdrawal strategies is also critical. Without education on withdrawal strategies, those near or at retirement may continue to work due to a lack of knowledge on how to begin the de-accumulation stage. (To de-accumulate is to take the wealth you've acquired during your working years and begin to spend it to fund your lifestyle in retirement.)
This could provide additional concerns for plan sponsors – such as increased benefit costs and struggles to bring in new talent due to lack of attrition.
The survey also provided a very clear direction of participant educational preferences. When asked how they like to receive financial wellness education, 65 percent of respondents indicated that having online resources sent to them was their preferred delivery channel.
Additionally, the OneAmerica survey inquired about the value that participants place on educational resources and found:
Web-based tools such as webinars, videos and podcasts were reported the most valuable resource by 42 percent of survey respondents, favored as much by men as women and across all three age ranges, but resonating the strongest among those aged 35 and over, as well as those with higher household income.
'Real-time chat' tallies in second, at 15 percent, which resonates more strongly with the 18-to-34 demographic (at 21 percent).
More traditional methods – direct mail flyers/postcards (13 percent) and posters and flyers at work (four percent) – rank fourth and sixth respectively.
The survey results clearly show a shift in education trends. Traditional communication channels such as print and posted items in the workplace have less value to participants. Plan sponsors should embrace those mediums that participants prefer when selecting education deliverables, and when creating their retirement plan's participant education and communication goals.
This survey was the third conducted by OneAmerica in five years, and the insights will be used (as has been done in the past) to assist retirement plan sponsors and HR professionals to work with participants to improve their financial wellness and overcome retirement planning hurdles.
Do you want to know more about the OneAmerica Survey? Download a free infographic and whitepaper at www.oneamerica.com/RSsurvey
---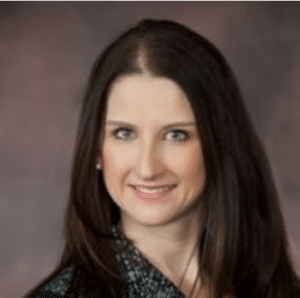 Melissa Musial is a 20-year veteran of the retirement industry and currently serves as the Marketing Research and Data Manager at OneAmerica, where she focuses on using data, analytics, industry trends to meet people where they are at in their retirement journey. She was recently named by LIMRA as one of the 10 Rising Stars of Marketing and Communications under 40 in the financial services industry.
---
OneAmerica is the marketing name for the companies of OneAmerica. Products issued and underwritten by American United Life Insurance Company® (AUL), a OneAmerica company. Administrative and recordkeeping services provided by McCready and Keene, Inc. or OneAmerica Retirement Services LLC, companies of OneAmerica which are not broker/dealers or investment advisors. Provided content is for overview and informational purposes only and is not intended and should not be relied upon as individualized tax, legal, fiduciary, or investment advice.
# # #
About OneAmerica
A national leader in the insurance and financial services marketplace for more than 140 years, the companies of OneAmerica help customers build and protect their financial futures. OneAmerica offers a variety of products and services to serve the financial needs of their policyholders and customers. These products include retirement plan products and recordkeeping services, individual life insurance, annuities, asset-based long-term care solutions and employee benefit plan products. Products are issued and underwritten by the companies of OneAmerica and distributed through a nationwide network of employees, agents, brokers and other sources who are committed to providing value to our customers. To learn more about our products, services and the companies of OneAmerica, visit OneAmerica.com/companies.
[1] From Aug. 25, 2017 to Jan. 31, 2018, more than 12,200 OneAmerica retirement plan participants responded to an online poll, sharing their thoughts on financial wellness, education and resource preferences, and potential roadblocks to retirement.