by Sandy McCarthy, president of retirement services, OneAmerica®
The mention of OneAmerica® in central Indiana may likely spark thoughts about the company's witty signboard, prominent position in Indianapolis' downtown skyline, or its title sponsorship of the OneAmerica 500 Festival Mini-Marathon.
While these are important aspects of the OneAmerica corporate identity, they don't begin to tell the full story of the company's commitment to the customers and communities it serves.
As the head of Retirement Services at OneAmerica, I often speak on how to develop a secure financial future and how to leverage education as a key to empowerment. Today, I'd like to go a step further and share how these concepts, which are so vital to us in Retirement Services, are also foundational to OneAmerica and its commitment to our city and neighbors in central Indiana – and why, especially during these challenging times, that commitment is more important than ever.
We exist to help others
For more than 140 years, the companies of OneAmerica have operated from the perspective that our business is more than our bottom line. We're committed to the Americans we serve and the Hoosiers we live and work with, and we believe it's our privilege and responsibility to better the community we call home. From the top down, our leaders and associates are committed to giving back, and we view these community contributions to be as important as the impact we have on the retirement and financial services industry.
Pathways Junior Fellows Program – Education and opportunity lead to empowerment
In the retirement realm, we understand that education and access to robust tools and resources can enable individuals to take ownership of their financial futures. The same concept applies in our community, where education and opportunity can open doors and help an individual find a promising path that once seemed out of reach.
OneAmerica has brought this idea to life with our Pathways Junior Fellows Program, which provides students from underserved areas in central Indiana with an introductory workplace experience. Partnered with OneAmerica associates who serve as mentors, and in collaboration with other community organizations, the students participate in job shadowing and career exploration, receive soft-skill job training and learn about the financial industry. This paid five-week experience yields meaningful results: these students, who often saw the OneAmerica Tower from their homes but couldn't picture themselves ever working there, now know they have the skills, experience and connections to pursue future opportunities at OneAmerica or at other companies in our community.
Investing in people has benefits beyond the individual
OneAmerica focuses much of our giving and volunteer efforts on education and workforce development, because we believe that helping individuals grow and advance sets off a positive chain reaction. Empowered individuals create opportunities for themselves and their families, leading to healthier communities and ultimately a stronger, more diverse workforce. The Pathways Junior Fellows program benefits individual students and their families, but it also helps us grow as an employer and gives us a pipeline of future employees who understand our culture, improve our organization's diversity and make us stronger.
Another component of the Pathways program is geared toward workforce development and putting our associates on the path to sustainable income. Launched in 2018, this initiative was introduced after we reviewed Brookings Institution research about what constitutes good jobs, along with the troubling statistic that only 35% of central Indiana workers without a bachelor's degree held a good or promising job in 2017. We took immediate action to reverse this trend at OneAmerica, examining and adjusting our positions to ensure every associate has the opportunity to earn a sustainable wage of $18 an hour*, plus strong health and retirement benefits. This investment once again created a ripple effect – impacting our associates, making OneAmerica a better place to work, and enhancing our ability to grow and further contribute to the community.
Diversity and inclusion move us forward
Our Retirement Services philosophy reflects our commitment to support all retirement-plan participants, regardless of where they are on their financial journey. We listen to understand individuals' unique goals, challenges and viewpoints.
OneAmerica shares this commitment company-wide. We value all people, listen to individual perspectives and believe we are stronger together. Having employees with attributes and backgrounds that reflect our diverse community and the markets we serve is important, and we've worked to make our company more reflective. Over the last five years, among our executives, we've increased the percentage of people of color by 580% and the percentage of women by 65%. And, we've continued to sponsor and support local organizations and events focused on diversity and inclusion – from the Indianapolis Urban League and Indiana Black Expo, to Dress for Success and Integrating Women Leaders, to the 2020 Center for Leadership Development's 40th Annual Minority Achievers Award & Scholarship Gala, among many others.
We're also committed to racial equity and continuously moving our community forward on this important issue. We believe meaningful change comes by relying on relationships – seeking genuine feedback and learning together. We've instituted listening sessions with our associates, sales professionals and distribution partners, and will use what we learn to inform next steps.
We continue our commitments in challenging times
Despite the challenges of 2020, OneAmerica remains firm in maintaining our community commitments continuing to show up for the customers and neighbors who depend on us. Across the organization, we pride ourselves on being there in times of need and being a source of strength in times of uncertainty.
While this year has changed the way we connect with each other, we value our community engagements more than ever. We're taking our seventh annual Week of Caring – when our associates volunteer thousands of hours for United Way agencies – and our United Way giving campaign virtual, ensuring that associates still have the opportunity to give back. We honored our commitments to our interns and Pathways students, offering them virtual opportunities to connect and engage. We provided advanced financial support, ahead of our payment deadlines, to vendors and local non-profits, to help with financial challenges. We opened our kitchen and cafeteria to provide Sahm's and Second Helpings a place to prepare meals for low-income senior citizens. We funded masks and sanitizers for local healthcare workers, and we worked to support e-learning, providing central Indiana students with access to technology and internet services.
Being there for the people who count on us – from retirement plan sponsors, to working Americans seeking financial security, to our central Indiana neighbors – means everything to us. We're driven and guided by this bigger purpose, and we're invested in the customers, neighbors and community we serve. Though our deep community involvement isn't always as front and center as our signboard or our recognizable position in the Indy skyline, it has always been and will continue to be the foundation of the OneAmerica story – through both good and challenging times.
*$18/hour with health and retirement benefits is the sustainable wage threshold for our region, according to the referenced Brookings Institution study.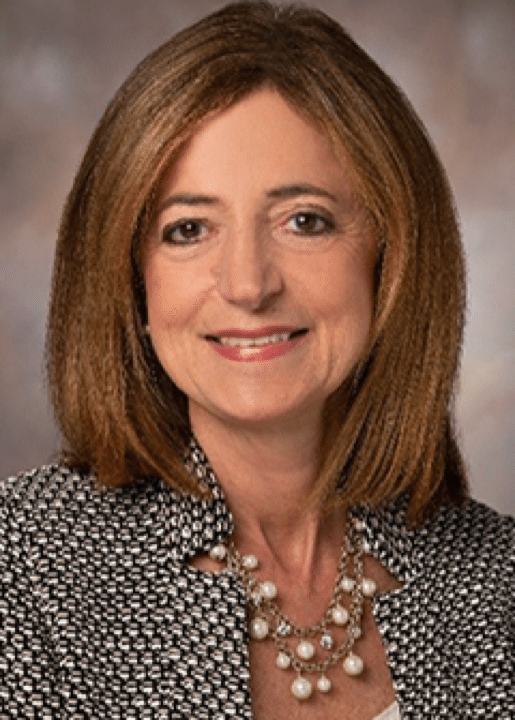 As president of Retirement Services, Sandy McCarthy leads the OneAmerica® team offering defined contribution and defined benefits services with a strong focus on customized retirement plans through highly personalized administration and recordkeeping services. She brings more than 30 years of industry experience, including key leadership roles at Mercer, ING (now Voya), and CitiStreet.