Welcome to the Board  booklet
More than 10 years ago, I wrote the first version of "Welcome to the Board" as a training handout for the first 'Get on Board' board member recruiting event. Unexpectedly, the new board members who took those booklets back to their boards prompted orders "for every board member" and we were in the publishing business.
Since that time we have sold more than 25,000 copies of our booklets across the country. We have sold them by the hundreds for conferences and even for university classes, but we have mainly sold them 10, 20 or 30 at a time to nonprofits to use as they recruit or train new board members and work to expand the perspectives of longer term board members.
Over the past couple years we have explored the possibility of moving to an ePub format of some type, but have concluded that what makes our format special is the ease with which a nonprofit can order and distribute a small stack of inexpensive booklets or review them in a board meeting or retreat without the hassles of sign-ins and electronic licenses.
We have continued our two best-selling titles in hard copy — Welcome and Finance for Every Board Member — and may explore some new topics.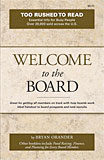 Welcome to the Board
By Bryan Orander, president, Charitable Advisors
"Welcome to the Board" hits the priority issues that you want your new board members to understand. Great for getting all board members on track with how boards work. Ideal handout to board prospects and new recruits.
This was the first booklet and was quickly embraced by the nonprofit community. In addition, several national nonprofit organizations and state associations have spread the word to their affiliates across the country. There are close to 10,000 in circulation. This booklet is designed to help you fulfill one of the most important and most neglected parts of your job as a nonprofit leader – effective new board member orientation.
Our experience has shown that most organizations do a reasonable job in sharing program information with new board members, but lack a cost and time-effective way to teach them about "being a board member."
"Welcome to the Board" is not a dry "10-key-responsibilities" list, but hits the priority issues you want your new members to understand. In only 15 pages plus a short glossary of nonprofit terminology, a new board member can have a real feel for his or her role.
Table of contents sampling

Overview of the nonprofit sector
What do nonprofit boards do?
Key differences between businesses and nonprofits
What will be expected of me?
What authority do I have?
Do I really have to raise money?
What is "conflict of interest?"
The board's relationship with the chief executive
Common board conversations
Being an exceptional board member
Copies of the booklet ($8 list price) can be ordered for reduced price in bulk. If you are not completely satisfied, return the booklets with your comments on how we can improve our product and we will refund your purchase price.
Order board booklets
Send an email to Julie Struble at Julie@CharitableAdvisors.com with the quantity of books and the mailing address.  An invoice will be emailed to you.
To place an order