Posting a job in the Indianapolis Not-for-profit News
Why advertise a job position in the Not-for-profit News?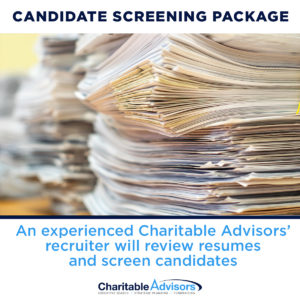 We can lend a hand. With a proven track record, Charitable Advisors nonprofit recruiters can help ensure that your nonprofit can continue to fill key positions, does not lose talent or take the focus away from the organization's mission. Learn More 
Does your nonprofit need to fill critical positions
With a post in the NFP News, you can reach an audience of nonprofit leaders, volunteers and students. NFP News' online job board attracts thousands of nonprofit professionals working in Central Indiana and others outside the area who wish to relocate.
Beyond the 14,000 weekly subscribers, many readers forward job postings to friends and colleagues or refer individuals to the online job board.
If you would like to reach a similar nonprofit job seeker audience in nearby Cincinnati, we recommend you post with the Greater Cincinnati Nonprofit News
Job-posting options
Our unlimited word count allows a job posting to include both information about the nonprofit and the open position.
$

245

Duration in the Indianapolis Not-for-profit News

Two weeks

Up to 30 days posted on job board

yes

Posting on social media channels

yes

Unlimited word count on job description

yes

Candidate screening questions

yes
Save time with candidate-screening questions
Screening questions can save time. Our system offers the option of including candidate-screening questions as part of the resume submission process. This allows the employer to receive resumes and candidate responses simultaneously. From our experience, candidates who cannot answer the screening questions are less likely to apply. With these questions, you can learn more about each candidate and receive a relevant sample of his or her writing skills.
Sample questions for a variety of positions can be found here. You can select from these or provide your own. We recommend at least four, but not more than seven to strike a balance between gathering pertinent information, while not discouraging qualified candidates. If you are including candidate-screening questions, the deadline for your job posting is 5 p.m. the previous Friday in order to be published in the upcoming Tuesday newsletter.
Write a compelling job posting
We have learned that just describing the job's responsibilities and minimum qualifications is not enough to attract outstanding candidates. When writing a job ad try to put yourself in the job seeker's shoes and think about what would motivate him or her to leave a current position. It is important to include reasons why a candidate should be excited about joining your nonprofit's team, share information about an organization's impact and delineate how an applicant can play a role in that important work.
To utilize the full capabilities of our job-board database, we suggest you use the following format:
* Name AND email of person collecting applications  – OR – Weblink to your job listing online or application site
* Job Title, Organization Name, Full Time or Part-time
Two sentence organization/position introduction that appears in the NFP News with a link to the full length description
Organization Overview or Description
Position Duties
Position Qualifications
Resumes will be accepted through what date, if shorter than our 30 day standard? (Month/Date)
Salary and benefits, if desired
*required information
Please indicate if you are including candidate-screening questions  with your submission.
Job ads are invoiced after publication in the Not-for-profit News.
Indianapolis ads must be submitted by 10 a.m. Monday to be included in Tuesday's e-newsletter. If candidate-screening questions are included, the deadline for your job posting is 5 p.m. the previous Friday in order to be published in the upcoming Tuesday newsletter.
Submit a job posting to Ads@NotforProfitNews.com
Q&A on how to use the job board