Real estate
To order a real estate ad
MEETING AND EVENT SPACE FOR RENT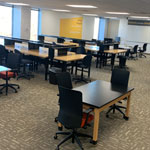 Nexus is a community dedicated to social impact!
With 2,000 square feet of coworking space, budget-friendly private offices, and comfortable meeting and event spaces, the Nexus Impact Center is an ideal location to pursue your mission. Conveniently located just off Interstate 465 and Michigan Road, the Nexus Impact Center allows your team members and visitors to quickly reach your space and meet in spacious rooms that allow for safe social distancing.
More
Features of real estate advertisement
The Indianapolis Not-for-profit News is the best way to reach Central Indiana nonprofits with your available office space, real estate, meeting room or event space. Several pricing options are available to meet your short-term or long-term real estate advertising needs. Features include:
Appear in the weekly Indianapolis Not-for-profit newsletter
Posted on the Charitable Advisors website
Include a photo; will rotate photos for quarterly sponsors
Promoted through Charitable Advisors social media channels, multiple times for quarterly sponsors
Short term options Ideal for landlords looking to fill office space quickly
30 days
---
$200
Ad will appear in four newsletters
60 days
---
$275
Ad will appear in 8-9 newsletters
Quarterly sponsorship options Ideal for brokers with multiple units to lease or nonprofits with event space.
3 months
---
$300
Ad will appear in 12 newsletters
6 months
---
$600
Ad will appear in 25 newsletters
One year
---
$1,200
Ad will appear in 51 newsletters
Send an email to Julie Struble at Julie@CharitableAdvisors.com with the length to advertise, a high resolution photo and a 5-6 sentence description.  An invoice will be emailed to you.
To place an order