Real estate
To order a real estate ad
OFFICE SPACE FOR RENT
Are you looking for a small office downtown? Look no further.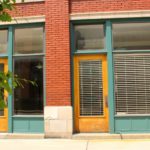 The Heier Building (10 S. New Jersey St.) is located in the heart of Indianapolis and has 630 square feet available. It is a five-minute walk from City Market and within walking distance to Monument Circle, Mass Ave and Fountain Square. Contact Lena Hackett at 317-423-1770 for details.
Prime office space for lease in the heart of Indy's Downtown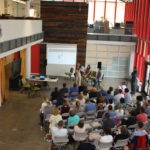 Share office space with other nonprofits in the Platform in the City Market Complex (202 E. Market St.). Affordable spaces available for up to 60 people or 6 – 8 employees. Among the amenities tenants have shared access to large and small conference spaces, fiber optic internet and wifi, color and B/W printers/copiers/scanners, and a kitchen stocked with premium coffee. Easy access to parking, public transportation, a bike hub, outdoor plaza, and cultural trail, along with many great restaurants.For more information contact Lesley Fitzsimons at  lfitzsimons@lisc.org or 317-454-8497.
MEETING AND EVENT SPACE FOR RENT
Reserve a room for your next meeting or training at St. Paul's Indy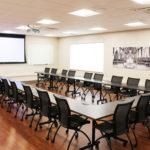 Looking for a meeting space on Indy's Northside? St. Paul's Indy has six rentable spaces to accommodate groups from 6 to 250. Building is handicap-accessible and has a large parking lot and ample street parking. Guest wifi and A/V equipment included. Interested in learning more? Click here for accommodation details, pricing and an inquiry form.
Features of real estate advertisement
The Indianapolis Not-for-profit News is the best way to reach Central Indiana nonprofits with your available office space, real estate, meeting room or event space. Several pricing options are available to meet your short-term or long-term real estate advertising needs. Features include:
Appear in the weekly Indianapolis Not-for-profit newsletter
Posted on the Charitable Advisors website
Include a photo; will rotate photos for quarterly sponsors
Promoted through Charitable Advisors social media channels, multiple times for quarterly sponsors
Short term options Ideal for landlords looking to fill office space quickly
30 days
---
$200
Ad will appear in four newsletters
60 days
---
$275
Ad will appear in 8-9 newsletters
Quarterly sponsorship options Ideal for brokers with multiple units to lease or nonprofits with event space.
3 months
---
$300
Ad will appear in 12 newsletters
6 months
---
$600
Ad will appear in 25 newsletters
One year
---
$1,200
Ad will appear in 51 newsletters
Send an email to Julie Struble at Julie@CharitableAdvisors.com with the length to advertise, a high resolution photo and a 5-6 sentence description.  An invoice will be emailed to you.
To place an order